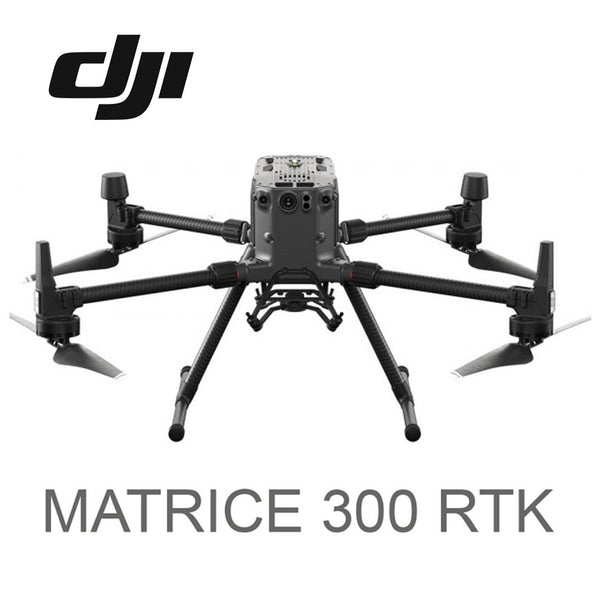 SUMMARY

SPECS

IN THE BOX

VIDEOS

ACCESSORIES
*The Matrice 300 RTK is Nearing End-Of-Life and will be discontinued soon*
Call for detailed quote and pricing information.
The Matrice 300 RTK is DJI's latest commercial drone platform that takes inspiration from modern aviation systems. Offering up to 55 minutes of flight time, advanced AI capabilities, 6 Directional Sensing & Positioning and more, the M300 RTK sets a whole new standard by combining intelligence with high-performance and unrivaled reliability.

The all-new OcuSync Enterprise enables transmission up to 15 km away and supports triple-channel 1080p video. Real-time auto-switching between 2.4 GHz and 5.8 GHz4 enables more reliable flight near high-interference environments, while AES-256 encryption offers secure data transmission.

DUAL CONTROL
Two operators can control the aircraft and/or the gimbal camera. Control can be switched between operators during flight.
New integrated user interface lets you quickly switch between wide, zoom, and thermal camera views, and preview the zoom FOV while in wide or thermal camera view.
SMART INSPECTION SUITE
The drone's Smart Inspection suite includes three functions:
(1) Live Mission Recording allows you to record every aspect of a flight, even down to gimbal position and camera settings. The drone can replay this entire flight on future missions
(2) AI Spot Check recognizes the item of interest, such as a section of power line that is being inspected. It uses AI to identify that item on future trips and ensure that the photo is framed identically.
(3) Waypoints 2.0 allows you to set a whopping 65,535 waypoints for an inspection mission. Combined with a BVLOS exemption, you can imagine the drone flying to inspect miles and miles of infrastructure such as power lines or oil and gas wells.
FEATURES
9 mile (15 km) Max Transmission
Max Wind Resistance: 33.5 mph
Max Flight Time: 55 min (Depending on Payload)
6 Directional Sensing & Positioning
Primary Flight Display
Advanced Dual Control
Hot-Swappable Battery
UAV Health Management System
GNSS: GPS + GLONASS + BeiDou + Galileo
Operating temperature: -4°F to 122° F
IP45 Rating
Max Payload: 6 lb
Max Takeoff Weight: 19.8 lb

UP TO 3 PAYLOADS SIMULTANEOUSLY
Supported Gimbals: DJI Zenmuse XT2, XT S, Z30, H20, H20T
Configurations: Single Downward Gimbal, Dual Downward Gimbals, Single Upward Gimbal, Upward and Downward Gimbals, Triple Gimbals
Dimensions: Unfolded, propellers excluded, 31.9×26.4×16.9 in (L×W×H) | Folded, propellers included, 16.9×16.5×16.9 in (L×W×H)
Diagonal Wheelbase: 35.2 in
Operating Frequency: 2.4000-2.4835 GHz | 5.725-5.850 GHz EIRP: 2.4000-2.4835 GHz: 29.5 dBm (FCC) | 5.725-5.850 GHz: 28.5 dBm (FCC)
Hovering Accuracy (P-Mode w/ GPS) – Vertical: ±4 in(Vision System enabled)| ±19.7 in(GPS enabled)| ±4 in(RTK enabled)
Hovering Accuracy (P-Mode w/ GPS) – Horizontal: ±11.8 in(Vision System enabled)| ±59 in(GPS enabled)| ±4 in(RTK enabled)
RTK Positioning Accuracy: When RTK enabled and fixed: 0.4 in + 1 ppm (Horizontal) | 0.6 in + 1 ppm (Vertical)
   
Max Angular Velocity: Pitch: 300°/s, Yaw: 100°/s
Max Pitch Angle: 30° (P-mode, Forward Vision System enabled: 25°)
Max Ascent Speed: S Mode: 13.4 mph | P Mode: 11.2 mph
Max Descent Speed (Vertical): S Mode: 11.2 mph | P Mode: 6.7 mph
Max Descent Speed (Tilt): S Mode: 15.7 mph
Max Speed: S Mode: 51 mph | P Mode: 38 mph
Service Ceiling Above Sea Level: 16,404 ft (with 2110 propellers, takeoff weight ≤ 15.4 lb) | 22,966 ft (with 2195 propellers, takeoff weight ≤ 15.4 lb)



The Standalone package includes:
Aircraft, DJI Smart Controller Enterprise, WB37 Intelligent Battery, Model 2110 Propellers (1-set), Landing Gear, Spare Stick Cover (pair), Spare Propeller Holder, Spare Gimbal Dampener, USB Charger, USB-C Cable, USB Dbl-A Port cable, Vision System Calibration Plate, Carrying Case, Controller Lanyard, Rubber Port Cover, Screws & Tools

The Combo package includes, everything in the Standalone package plus:
Two TB60 Intelligent Flight Batteries and the BS60 Intelligent Battery Station