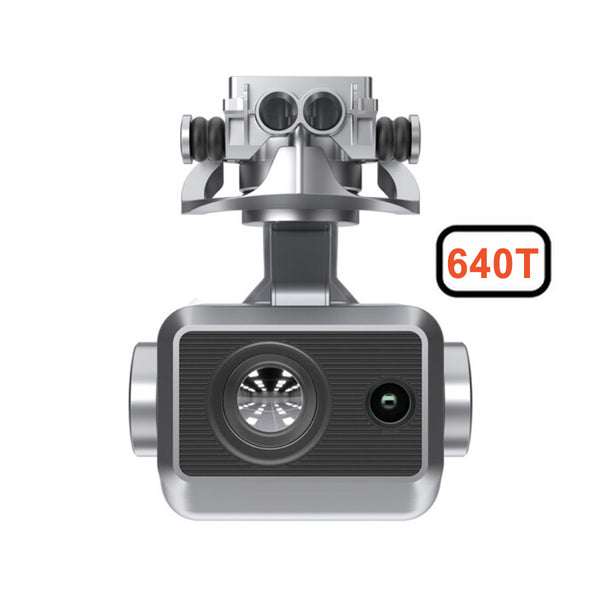 SUMMARY

IN THE BOX

SPECS

VIDEOS
Note: this gimbal is only compatible with v1/v2 EVO II drone models. They are not compatible with EVO II v3 drones. Pls call us if you have questions: 856-281-7545.
Add radiometric, thermal functionality to the Autel Robotics EVO II aircraft. Intended for customers not limited to country of origin. This non-FLIR quality thermal is the best solution for full thermal productivity at an affordable price.


This gimbal combination is a 8K camera with a 1/2-inch sensor, 13mm lens paired with a non-USA manufactured thermal providing 640 x 512 @ 30fps resolution quality.

This camera supports 4K-30fps, 1080p-30fps and 720p-30fps. Max image size is 8000 x 6000. When recording in dual simultaneous mode, 720p-30fps is the output. Refresh rate is set to 30-hertz.
Radiometric Technology
The 640T model provides radiometric technology with temperature modes monitoring real time temperatures, which are captured directly on the remote display.  The integrated Infrared Thermal Analysis Tool (IRPC TOOL) enables quick image import and analysis of temperature measurements that will generate detailed thermal reports.
FEATURES
Central temperature measurement View real-time display of the temperature in the center area of the screen.
Spot temperature measurement Tap the screen, and the temperature of the selected object will be displayed in real time.
Regional temperature measurement Get a dynamic view of the average temperature, maximum temperature, and minimum temperature displayed in a selected area.
Temperature alarm Monitors the screen temperature in real time. The system prompts the user when the temperature reaches a set threshold.
Isotherm Set a temperature range and the system will detect any objects within the temperature range specified.
Image enhancement Supports real-time adjustment of image brightness, contrast, and image details. The system will highlight any objects within the temperature target.
Camera
• Image Sensor: 1/2" CMOS
• Pixels: 48MP
• Perspective: 79°
• Lens: EFL: 25.6mm | Aperture: f/2.8-f/11
Focus Distance: 0.5m to any distance (with auto focus mode)
• ISO Range: Video: 100-6400 (auto) | Photo: 100-3200 (auto)
• Zoom: 1-8x (max 4x lossless)
• Still Photography Modes: Single shot, Burst: 3/5 shots,
Auto Exposure Bracketing (AEB), Time-lapse: 3/5 shots
• Still Photography Resolution: 8000 x 6000 (4:3), 7680 x 4320 (16:9),
4000 x 3000 (4:3), 3840 x 2160 (16:9)
• Video Format: MP4/MOV (MPEG-4 AVC/H.264, HEVC/H.265)
• Video Resolution:
8K 7680*4320 p25/p24, 6K 5760*3240 p30/p25/p24,
4K 3840*2160 p60/p50/p48/p30/p25/p24,
2.7K 2720*1528 p120/p60/p50/p48/p30/p25/p24,
1080P 1920*1080 p120/p60/p50/p48/p30/p25/p24
• Max Bitrate: 120Mbps
Thermal Camera
• Infrared Camera Sensor: Uncooled VOx Microbolometer
• Sensor Resolution: 640 x 512
• Pixel Pitch: 12 μm
• Wavelength Range: 8􀈫14 μm
• Focal Length: 13mm
• FOV: H33°V26°
• Zoom: 1􀈫8x
• Camera Resolution:
Infrared Mode: 640 x 512 | Picture in Picture: 1920 x 1080, 1280 x 720
• Photo Shooting Mode:
Single shooting, Continuous shooting, Time-lapse shooting
• Video Resolution: 640 x 512 30fps
• Video Format: MOV/MP4 (support H.264/H.265)
• Temperature Measurement Accuracy: ±3°C or ±3% of reading
(whichever is greater) at ambient temperature -20°C ~ 60°C
• Temperature Range:
High Gain Mode: -20° to +150°C | Low Gain Mode: 0° to +550°C
• Accurate Temperature Measurement Distance: 2-20 meters
Packaging: 6" x 5.25" x 3.25"
Weight: 2 lbs