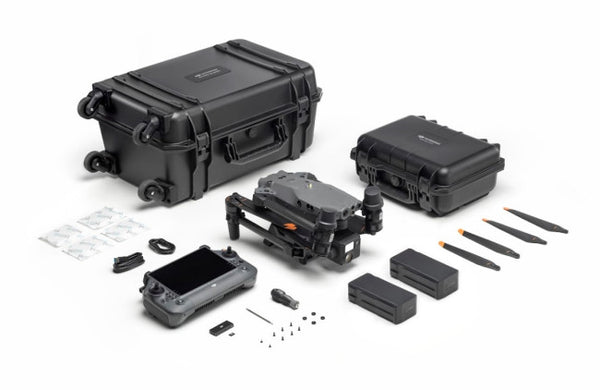 SUMMARY

SPECS

IN THE BOX

VIDEOS

ACCESSORIES
DJI M30 ENTERPRISE DRONE
The DJI Matrice 30 comes in two versions
DJI M30 with a 48 megapixel 1/2" CMOS sensor zoom camera with 5×~16× optical and 200× digital zoom, a 12 megapixel wide-angle camera, 8k photo 4K/30 fps video resolution, and a laser rangefinder which can give the precise coordinates of objects up to 1,200 meters away.
DJI M30T which offers all of the above AND an additional 640×512 px radiometric thermal camera.
Powerful Flight Performance
A balance of power and portability delivers higher operational efficiency
41-MIN MAX FLIGHT TIME
15 M/S WIND RESISTANCE
7000 M SERVICE CEILING
23 M/S MAX SPEED
OPERATING TEMP -20° C to 50° C
IP-55 RATED
Portable
RemoteID Supported
Safe and Reliable
Dual-vision and ToF sensors appear on all six sides of the aircraft, keeping it and your mission safe. The built-in ADS-B receiver provides timely warnings of any incoming crewed aircraft nearby.
Redundancies and Backup Systems
Built-in advanced redundancy systems help keep your critical missions going even in unexpected scenarios.
Enhanced Transmission
Four built-in antennas support OcuSync 3 Enterprise, which enables triple-channel 1080p video transmission, and seamless swapping between input feeds, even in complex environments.
Lightweight and Portable
Compact and foldable, the M30 Series is easy to pack up, carry, and deploy.
Capture Everything
The M30 Series integrates wide, zoom, and thermal cameras (M30T only) with a laser rangefinder, which together can capture the aerial data you need, when you need it.
Built For Commercial Drone Pilots
The 7-inch widescreen DJI RC Plus with dual control mode is tailor-made for Enterprise users.
Enterprise Environmental Adaptability
IP54 PROTECTION
WATER AND DUSTPROOF
-20°C TO 50°C
CAPABLE IN CLIMATES BOTH HOT AND COLD
Improved Stability and Battery Life
Four Antenna OcuSync 3 Enterprise
Cover more area with stable video transmission and removable dual-antennas.
Extended Battery Life
Internal and external battery configuration powers 6 hours of battery life and enables hot-swapping for seamless, uninterrupted flight operations.
Introducing the All-new DJI Pilot 2
A revamped Enterprise flight interface designed to improve piloting efficiency and flight safety.
Mission Live Streaming
Connect multiple users to one or many drone operations simultaneously, and keep teams updated with the latest developments thanks to low latency, high-resolution livestreaming.
Aircraft
Dimensions
(unfolded, excl. propellers) 

470×585×215 mm (L×W×H)
Dimensions (folded)

365×215×195 mm (L×W×H)
Diagonal Wheelbase

668 mm
Weight (incl. two batteries)

3770 ± 10 g
Max Takeoff Weight

3998 g
Operation Frequency[1]

2.4000-2.4835 GHz; 5.725-5.850 GHz
Transmitter Power (EIRP)

2.4 GHz: <33 dBm (FCC); <20 dBm (CE/SRRC/MIC)
5.8 GHz: <33 dBm (FCC/SRRC); <14 dBm (CE)
Hovering Accuracy
(windless or breezy)

Vertical: ±0.1 m (Vision System enabled); ±0.5 m (N-mode with GPS); ±0.1 m (RTK)
Horizontal: ±0.3 m (Vision System enabled); ±1.5 m (N-mode with GPS); ±0.1 m (RTK)
RTK Positioning Accuracy
(fixed RTK enabled)

1 cm+1 ppm (horizontal)
1.5 cm+1 ppm (vertical)
Max Angular Velocity

Pitch: 150°/sec.; Yaw: 100°/sec.
Max Tilt Angle

35° (N-mode and Forward Vision System enabled: 25°)
Max Ascent/Descent Speed

6 m/s, 5 m/s
Max Tilt Descent Speed

7 m/s
Max Horizontal Speed

23 m/s
Max Service Ceiling Above Sea Level (without other payload)

5,000 m (with 1671 propellers)
7,000 m (with 1676 propellers)
Max Wind Resistance

15 m/s
12 m/s during taking off and landing
Max Hover Time [2]

36 min
Max Flight Time[2]

41 min
Propeller Model

1671
1676 High Altitude (not included)
Ingress Protection Rating[3]

IP55
GNSS

GPS+Galileo+BeiDou+GLONASS
(GLONASS is supported only when RTK module is enabled)
Operating Temperature

-20° to 50° C (-4° to 122° F)
Gimbal
Angular Vibration Range

±0.01°
Controllable Range

Pan: ±90°
Tilt: -120° to +45°
Mechanical Range

Pan: ±105°
Tilt: -135° to +60°
Roll: ±45°
Zoom Camera
Sensor

1/2" CMOS, Effective pixels: 48M
Lens

Focal length: 21-75 mm (equivalent: 113-405 mm)
Aperture: f/2.8-f/4.2
Focus: 5 m to ∞
Wide Camera
Sensor

1/2" CMOS, Effective pixels: 12M
Lens

DFOV: 84°
Focal length: 4.5 mm (equivalent: 24 mm)
Aperture: f/2.8
Focus: 1 m to ∞
Thermal Camera
Thermal Imager

Uncooled VOx Microbolometer
Lens

DFOV: 64°
Focal length: 9.1 mm (equivalent: 40 mm)
Aperture: f/1.0
Focus: 5 m to ∞
Infrared Temperature Measurement Accuracy[4]

±2°C or ±2% (using the larger value)
FPV Camera
Laser Module
Measurement Accuracy

± (0.2 m + D×0.15%)
D is the distance to a vertical surface
Measuring Range

3-1,200 m (0.5×12 m vertical surface with 20% reflectivity)
Vision Systems
Obstacle Sensing Range

Forward: 0.6-38 m
Upward/Downward/Backward/Sideward: 0.5-33 m
Operating Environment

Surfaces with clear patterns and adequate lighting (> 15 lux)
Infrared Sensing Systems
Obstacle Sensing Range

0.1 to 10 m
Operating Environment

Large, diffuse, and reflective obstacles (reflectivity >10%)
TB30 Intelligent Flight Battery
Operating Temperature

-20° to 50° C (-4° to 122° F)
Storage Temperature

20° to 30° C (68° to 86° F)
Charging Temperature

-20° to 40° C (-4° to 104° F)
(When the temperature is lower than 10° C (50° F), the self-heating function will be automatically enabled. Charging in a low temperature may shorten the lifetime of the battery)
Chemical System

LiNiMnCoO2
Auxiliary Lights
Effective Illumination Distance

5 m
Illumination Type

60 Hz, solid glow
Remote Controller
Screen

7.02 inch LCD touchscreen, with a resolution of 1920×1200 pixels, and high brightness of 1200 cd/m2
Internal Battery

Type: Li-ion (6500 mAh @ 7.2 V)
Charge Type: Supports battery station or USB-C charger maximum rated power 65W (max voltage of 20V)
Charge Time: 2 hours
Chemical System: LiNiCoAIO2
External Battery(WB37 Intelligent Battery)

Capacity: 4920 mAh
Voltage: 7.6 V
Battery Type: Li-ion
Energy: 37.39 Wh
Chemical System: LiCoO2
Operating Time[5]

Internal Battery: Approx. 3 hours 18 min
Internal Battery + External Battery: Approx. 6 hours
Ingress Protection Rating[3]

IP54
Operating Temperature

-20° to 50° C (-4° to 122° F)
O3 Enterprise
Operating Frequency[1]

2.4000-2.4835 GHz, 5.725-5.850 GHz
Max Transmission Distance (unobstructed, free of interference)

15 km (FCC); 8 km (CE/SRRC/MIC)
Max Transmission Distance (with interference)

Strong Interference (urban landscape, limited line of sight, many competing signals): 1.5-3 km (FCC/CE/SRRC/MIC)
Medium Interference (suburban landscape, open line of sight, some competing signals): 3-9 km (FCC); 3-6 km (CE/SRRC/MIC)
Weak Interference (open landscape abundant line of sight, few competing signals): 9-15 km (FCC); 6-8 km (CE/SRRC/MIC)
Transmitter Power (EIRP)

2.4 GHz: <33 dBm (FCC); <20 dBm (CE/SRRC/MIC)
5.8 GHz: <33 dBm (FCC); <14 dBm (CE); <23 dBm (SRRC)
Wi-Fi
Operating Frequency[1]

2.4000-2.4835 GHz; 5.150-5.250 GHz; 5.725-5.850 GHz
Transmitter Power (EIRP)

2.4 GHz: <26 dBm (FCC); <20 dBm (CE/ SRRC/MIC)
5.1 GHz: <26 dBm (FCC); <23 dBm (CE/ SRRC/MIC)
5.8 GHz: <26 dBm (FCC/SRRC); <14 dBm(CE)
Bluetooth
Operating Frequency

2.4000-2.4835 GHz
Transmitter Power (EIRP)

<10 dBm
BS30 Intelligent Battery Station
Dimensions

353×267×148 mm
Compatible Battery Type

TB30 Intelligent Flight Battery
WB37 Intelligent Battery
Input

100-240 VAC, 50/60 Hz
Output

TB30 Battery Port: 26.1 V, 8.9 A (supported up to two outputs simultaneously)
WB37 Intelligent Battery: 8.7 V, 6 A
USB-C port

Max. output power of 65 W
USB-A port

Max. output power of 10 W (5 V, 2 A)
Power Consumption (when not charging battery)

< 8 W
Output Power (when warming up battery)

Approx. 30 W
Operating Temperature

-20° to 40° C (-4° to 104° F)
Ingress Protection Rating[3]

IP55 (with the cover closed properly)
Charging Time[6]

Approx. 30 min (charging two TB30 batteries from 20% to 90%)
Approx. 50 min (charging two TB30 batteries from 0% to 100%)
Protection Features

Anti-Backflow Protection
Short Circuit Protection
Over Voltage Protection
Over Current Protection
Temperature Protection
Aircraft, RC Plus Controller, 1671 CW Propellers, 1671 CCW Propellers, USB-C Cable, Carrying Case, Screws & Tools, BS30 Battery Station, TB30 Battery, USB-C to USB-C Cable