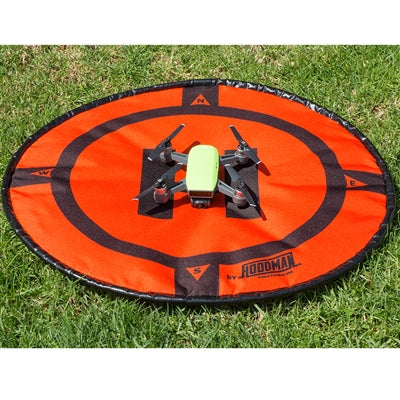 Launch Pads: From 2 feet to 8 feet in diameter
We are offering a variety of launch pads by Hoodman which range in diameter as follows: 2 ft, 3 ft, 5 ft and 8ft. 
Each pad comes with its own carry case. Lights are available as separate accessories should you wish to light up your pads for night or low visibility flights.
Each pad comes with a 1-year warranty.
Easy setup-springs into shape when released from carry bag.

Zinc coated perimeter cable weight keeps Drone Landing Pad in place without stakes.
Keeps your camera lens clean during take off and landing.
Protects rotors from tall grass and pebble strikes.
Prevents dirt from sucking through motor bearings and causing premature motor failure.
Collapses quickly to carry bag with shoulder strap for easy storage and transport...simply fold and twist the large pad into 3 smaller circles and place in bag.
Landing Pad carry bag serves as a notice to pedestrians of a drone flying in the area. (just place empty bag handles over a tripod. Tripod not Included)
Rustproof components clean up with a wet towel.
Hoodman's Newest 21-inch Diameter Weighted Trifold Landing Pad 
Hoodman's LP21 pad is a 21-inch diameter professional, rugged, weighted drone landing pad that offers great value for consumers with small drones. Its patent-pending design features 6 triangular plastic inserts sandwiched between rugged vinyl skins, providing exceptional ground-hugging performance. The pad's fluorescent orange and green sides cater to day and night flights, while a compass rose aids drone pilots with quick reference. The unique tri-fold design allows for easy portability, folding to 1/6th of its deployed size, and comes with a rubber belt. Hoodman drone landing pads are simple to deploy: Just throw and go.