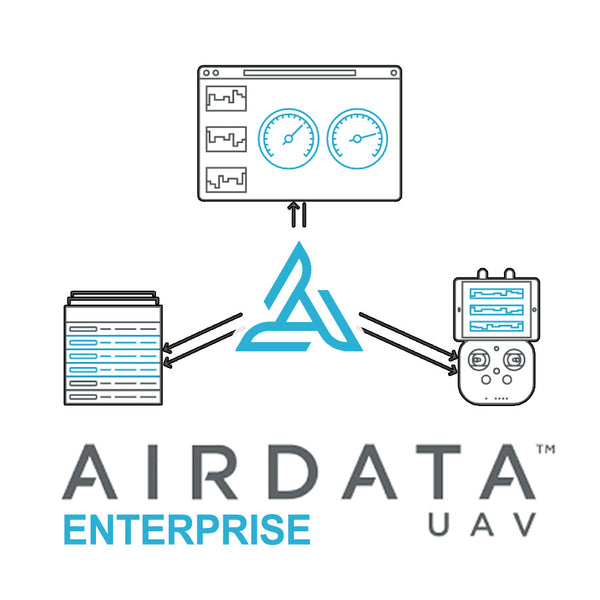 Take control of your drone with AirData Enterprise management software! The industry is growing! As the capabilities of drones are being realized, technology is advancing and in some ways is becoming more complex. Increased demand means more drone activity and much more data captured. Pilots must be hyper-vigilant to avoid potential difficulties. The FAA requires the remote pilot in command (RPIC) to know the limitations of their equipment, to log flight hours and perform maintenance to keep the aircraft safe and airworthy. 
Airdata software helps the RPIC comply with the FAA requirements. It is reliable, easy to use, and convenient to access. The program can be securely accessed from an internet browser, or by using the mobile application which is compatible iOS and Android devices.
Once properly setup and configured, the pilot simply fly like normal. Unlike other programs with some similar features, AirData works synchronizes transparently in the background, eliminating the need to have a second program running minimized in the background. AirData is easy to use, more robust and compatible with a wide variety of airframes. Advanced analytics give you the performance data that you need.
FEATURES

Eliminate manual recording while reducing data entry errors
Log File Background Synchronization

See and analyze your aircraft's performance 

Track aircraft activity for maintenance
Keep track of battery health and charge cycles
Maintain a record of flight activity
See how the aircraft performed every second during flight
Identify early signs of potential problems

Set alerts notifications when something isn't right

Create checklists for Pre and Post Flight
Manage your entire team and drone fleet
Optionally Live Stream your in-flight video in near real time
Works with any computer internet browser