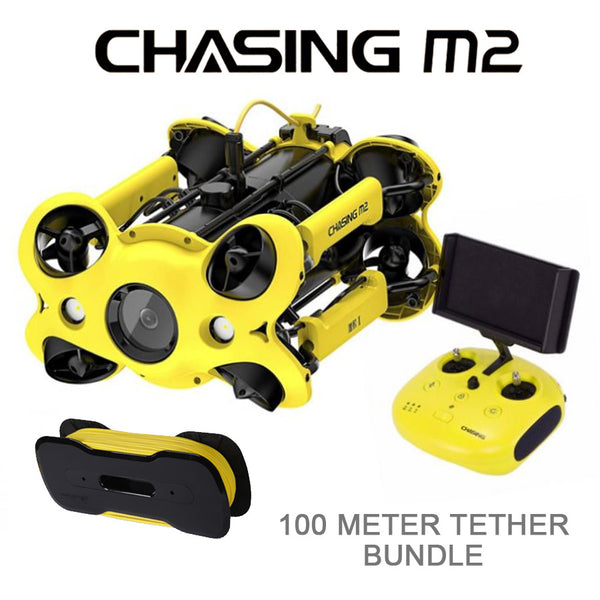 SUMMARY

SPECS

IN THE BOX

VIDEOS
CHASING M2 is a professional underwater ROV/Drone is designed for professional users and industrial applications.

FEATURES
Submersible Speed: 3 Knots
Diving Depth: 330 feet
Max Horizontal Radius: 660 feet (200 meters)
Operating Temp: 50° to 113° F
Battery Life: 2-4 Hours
Omni Directional Movement
Anti-Stuck Motors
Hotswappable Batteries
Removable SD Card, up to 512 GB supported
Accurate Depth and Temperature Real-Time Measurement
Add-On Module Attachment Capabilities
4KUHD / 12 MP EIS Camera System
Two 2000 lumen LEDs

LiveBroadcast Streaming at 60 MB/s
HDMI Output, LiveBroadcast, Time lapse, Slow Motion and Quick Editing
CAMERA SYSTEM
The M2 ROV can record video in 4K / 30 fps and 1080p and capture photographic stills with a 12 MP camera, 1/2.3 SONY CMOS, ISO sensitivity 100-6400, f/1.8 fixed aperature, 152° FOV. Two 2000 lumen LED combined with EIS anti video-shake features, help to improve the camera performance in low light and dynamic range.
OMNI DIRECTIONAL MOVEMENT
8 Vectored-Thrusters enable the ROV to move in all directions. 

ADD-ON ATTACHMENT MODULES
The M2 ROV supports integrated accessories or surface mounted components. Such as Robot Claw, GoPro camera, external LED lights, Laser scaler and more etc. The maximum attachable capacity for components is 3.3 lbs.

* ELECTRIC E-REEL SYSTEM (Optional)
E-Reel system is easy to use. It can retract the tether within 3-9 minutes, and can be used more than 30 times on a single charge. Constructed out of stainless steel and aluminum parts with explosion-proof wire ensures this system will be ready when you need it. Supports up to 200 meters length tether. Get rid of the trouble of manual winding and spend more time exploring underwater instead!
Drone

14.9" x 10.5" x 6.5" (380 x 267 x 165 mm)
< 9.9 lb (4.5 kg)
330 ft (100 m)
3 Knots (1.5 m/sec)
3h (Still water, depth lock mode, 50% LED)
97.68 Wh
-10℃~45℃
Remote Controller

6.3" x 6.1" x 4.9" (160 x 155 x 125 mm)
685 g
2500 mAh
≥ 6 hours (depending on the environment)
Yes
Yes
Maximum support 13 inch
---
Camera

1/2.3 inch
F1.8
1m
100-6400
152°
12 Meg pixel
JPEG/DNG
UHD: 3840*2160 (4K) 30fps
FHD: 1920*1080 (1080p) 30/60/120fps
FHD: 1920*1080 120fps
FHD: 3840*2160(4K) 30fps
720p: 8x (240 fps)
1080p: 4x (120 fps)

4K / 1080p
60 M
MP4
64 G
Sensor

3 axis gyro & accelerometer & compass
< ± 0.25 m
< ± 2 ℃
Charger

2.9A / 25.2V
2.5 hours
2 hours
---
LED

2 x 2000 Lumens
5000 K - 5500 K
85
Three gears
E-REEL SYSTEM


296 x 189 x 279 mm

3.5 kg

200 meters


4800 mAh

Number of Cycles
> 300 times
Runtime
30 times
Winding Speed
3 gears
Take-Up Speed (200m)

Fast speed 220s / Low speed 9min

Operating Temp

-10℃~45℃

Charger Power

25.2V 1.5A / 2.9A

Charger Time
4H
Chasing M2 ROV, 100 meter Tether Cable, Remote Controller, Buoy/Winder, 75W/12.6 VDC Charger for ROV, 38W/12.6 VDC Charger for Buoy, Limited 1-Year Warranty
(OPTIONAL) E-REEL SYSTEM
INCLUDES: e-Reel, Handle, Charger, 3 meter tether