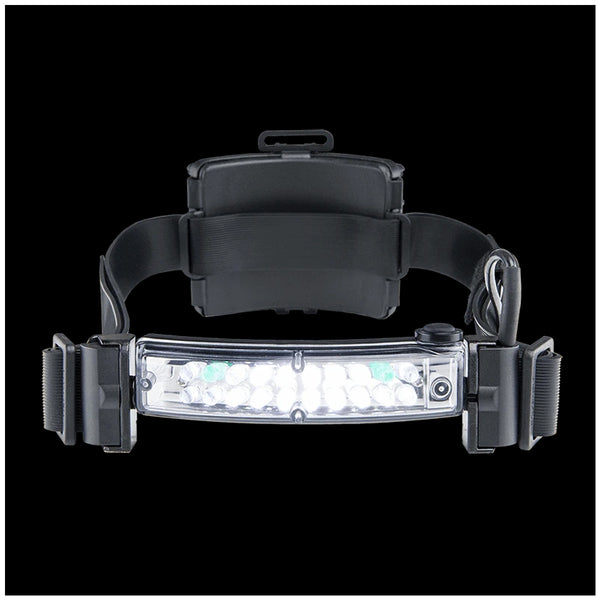 SUMMARY

SPECS

IN THE BOX

ACCESSORIES

VIDEO
Command+ LoPro White and Green LED Headlamp/Helmet Light 
See wider and better with the FoxFury Command+ LoPro White & Green LED Helmet Light. This rugged fire resistant firefighter helmet light provides hands-free illumination in all-weather conditions and delivers up to 100 lumens. This ultra-slim design enables the light to clear the external face shield on most U.S. style modern and traditional fire helmets. White & green LEDs are best suited for cutting through smoke in structural firefighting. This headlamp also features a highly visible red flashing LED in the battery pack that can be seen from over 1 mile (1.6km) away.

Panoramic Light
A wide beam angle provides panoramic lighting and immediate situation assessment so you can see and respond faster. The combination of white and green LEDs offers improved depth perception, color rendition and smoke cutting ability (as compared to white light only).
Rechargeable Battery Option
This light has option of a rechargeable NiMH battery system and includes an AC power adaptor so that the light can be plugged directly into a wall.

Ultra-Slim Design
This ultra-slim helmet light was designed for use on firefighter helmets that utilize external face shields as eye protection. This lower profile design enables most external 4" and 6" face shields to be raised and lowered without interference. NOTE: not compatible with European (Gallet) style helmets.

True to Life LED Technology
New LED technology allows you to see colors more accurately. FoxFury's True To Life LED technology provides a higher quality light. The enriched visual feedback gives a true appearance where colors are seen accurately, clearly and vibrantly (compared to standard LEDs). This technology is critical for inspections and precision work where details need to be distinguished.

Rugged
Command headlamps are professional grade lighting instruments and are meant to thrive in challenging environments. These all-weather headlamps are engineered to survive the heat, cold and submersion underwater. This light is impact and fire resistant and meets the requirements of NFPA when used with the silicone strap.

The FoxFury Command+ LoPro White & Green Helmet Light is a professional grade lighting tool that provides spot and flood lighting. It is powered by (4) AA batteries (Battery option) or powered by a rechargeable battery system (Rechargeable option). A front light bar and rear battery pack evenly distributes the weight of the light from side to side and front to back, which prevents the light from tilting forward or sideways. 3 modes provide a low, medium and high setting to adjust light intensity based on what the immediate situation requires.

The included silicone strap grips securely to firefighter helmets. This rugged fire helmet light is used by volunteer and career firefighters around the world to save people and property. If using on hard hats and fire helmets with different eye protection (goggles, visors, Bourke eyeshields, etc.), the Command Tilt model is generally preferred.

Lumens: 100 Max Lumens (32 Low, 78 Medium, 100 High)

LOW: Approx 32 lumens output by the 4 central white LEDs
MEDIUM: 78 Lumens, output by 12 center white LEDS
HIGH: 100 Lumens output by all 20 LEDS, 4 of which are Green

Battery Life:

Up to 10 Hours (10 Low, 5 Medium, 3 High) (Rechargeable option)
Up to 14 Hours (14 Low, 6 Medium, 5 High) (Battery option)

Power Source:

Rechargeable NiMH Battery (Rechargeable option)
(4) AA batteries - not included (Battery option)

Modes: 3 (Low, Medium, High)
Weight with Battery:

8.8 oz (249 g) (Rechargeable option)
9.6 oz (272 g) (Battery option)

Dimensions: 5.3 x 0.7 x 1.0 in (135 x 18 x 25 mm)
Certifications: CE-EMC
Ingress Protection: IPX7
Fire Resistant: Meets Requirements of NFPA 1971-8.6 (2013)
Waterproof: 9.8 ft (3 m)
Impact Resistant: 9.8 ft (3 m)
LED Color: White and Green
Color Temperature: 5700K, CRI 95 (white only)
Operating Temperature: -4° F (-20° C) to 300° F (149° C)
Materials: Nylon 66 housing with polycarbonate lens; Silicone cable
Beam Distance: 114 ft (35 m)
Beam Angle: 38 degree
Warranty:

Limited Lifetime Warranty
Features
Best for structural fires; White and green LEDs enhance depth perception and helps to see (and be seen) through mild to moderate smoke; Offers panoramic and focused lighting; Ultra-slim design fits most U.S. style fire helmets with external face shields; Rear safety LED (red)
Command+ LoPro White & Green Helmet Light
Silicone Strap
Elastic Strap, (2) Cable Guides
RC Plug Adaptor (Rechargeable option)

Elastic Strap P/N 60-019
Silicone Glow Strap P/N 600-026
Silicone Black Strap P/N 600-027