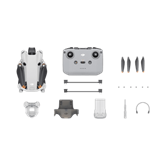 SUMMARY

In The Box

Specs

Comparison

Accessories

Video
 DJI Mini 4 Pro : Mini to the Max!
Features:
Under 249 g
4K/60fps HDR True Vertical Shooting
Omnidirectional Obstacle Sensing
Extended Battery Life
20km FHD Video Transmission
ActiveTrack 360°
The Mini 4 Pro is DJI's most advanced mini camera drone to date. It integrates powerful imaging capabilities, omnidirectional obstacle sensing, ActiveTrack 360° with the new Trace Mode, and 20km FHD video transmission, bringing even more things to love for pros and beginners alike. Take off whenever inspiration strikes. Weighing less than 249 g, Mini 4 Pro was designed for convenience on the go, and the drone's weight means there's no need for training or examinations in most countries and regions.
Out-sized Imaging Performance
Capture more complex details easily with Mini 4 Pro's camera, powered by a 1/1.3-inch CMOS sensor featuring Dual Native ISO Fusion, a f/1.7 aperture, and 2.4μm 4-in-1 pixels. [5] More highlight and shadow details with a high dynamic range means uncompromising results in every frame.
Maximum Visual Impact
Give vibrant scenes the details they deserve with 4K/60fps HDR and 4K/100fps video, while 10-bit D-Log M and HLG help capture a stunning range of colors and provide more flexibility while editing and sharing.

4K/60fps HDR
Preserve the natural wonder of any moment. 4K/60fps HDR lets you share the nuances of sunset or sunrise in true-to-life quality.
RAW-Some Photos
It's often the little things that matter most. Preserve every intricate detail with 48MP RAW and next-gen SmartPhoto [6] which combines HDR imaging, scene recognition, and more for images that pop.
Sense More, Fly Safe
Omnidirectional obstacle sensing makes Mini 4 Pro mighty safe. With four wide-angle vision sensors and a pair of downward vision sensors, it detects obstacles from all angles. Advanced Pilot Assistance Systems (APAS) ensures additional safety by enabling automatic braking and bypassing during flight.
Fly Longer, Create More
Leave battery concerns behind and stay focused on creation with Mini 4 Pro's Intelligent Flight Battery. Enjoy up to 34 minutes of flight time, or upgrade to the Intelligent Flight Battery Plus to enjoy an extra-long 45-minute max flight time.

20 km Video Transmission

Mini 4 Pro features DJI's O4 video transmission. Enjoy ultra-responsive control and smooth 1080p/60fps FHD live feeds from distances of up to 20 km.
A Touch of Cinematics
Mini 4 Pro has three effortless ways to get the shots you want: Spotlight, Point of Interest, and the revolutionary new ActiveTrack 360° with enhanced subject tracking capabilities. Swipe a path on the trace wheel interface to capture seamless cinematic shots. With omnidirectional obstacle sensing, bypassing obstacles and achieving smoother, more stable tracking for pro-level results is shockingly simple.
Which Controller is right for you? 
A remote controller is required for flying a drone. This product provides two remote controller options: DJI RC-N2 and DJI RC 2.
| | | | |
| --- | --- | --- | --- |
| DJI Mini 4 Pro (DJI RC-N2) | DJI Mini 4 Pro (DJI RC 2) | DJI Mini 4 Pro Fly More Combo (DJI RC 2) |  DJI Mini 4 Pro Fly More Combo Plus (DJI RC 2) |
| | | | |
 DJI Mini 4 Pro (DJI RC-N2)
1 x DJI Mini 4 Pro
1 x DJI RC-N2
1 x DJI RC-N2/N1 RC Cable (USB-C Connector)
1 x DJI RC-N2/N1 RC Cable (Lightning Connector)
1 x DJI Mini 4 Pro Intelligent Flight Battery
1 x DJI Mini 4 Pro/Mini 3 Pro Propellers (Pair) (Screws Included)
1 x Screwdriver
1 x DJI Mini 4 Pro Gimbal Protector
1 x DJI Mini 4 Pro Propeller Holder
1 x Documents (Quick Start Guide and Safety Guidelines)
1 x Type-C to Type-C PD Cable

 DJI Mini 4 Pro (DJI RC-2)
1 x DJI Mini 4 Pro
1 x DJI RC-2
1 x DJI Mini 4 Pro Intelligent Flight Battery
1 x DJI Mini 4 Pro/Mini 3 Pro Propellers (Pair) (Screws Included)
1 x Screwdriver
1 x DJI Mini 4 Pro Gimbal Protector
1 x DJI Mini 4 Pro Propeller Holder
1 x Documents (Quick Start Guide and Safety Guidelines)
1 x Type-C to Type-C PD Cable
DJI Mini 4 Pro Fly More Combo (DJI RC-2)
1 x DJI Mini 4 Pro
1 x DJI RC-2
3 x DJI Mini 4 Pro Intelligent Flight Battery
3 x DJI Mini 4 Pro/Mini 3 Pro Propellers (Pair) (Screws Included)
1 x Screwdriver
1 x DJI Mini 4 Pro Gimbal Protector
1 x DJI Mini 4 Pro Propeller Holder
1 x Documents (Quick Start Guide and Safety Guidelines)
1 x Type-C to Type-C PD Cable
1 x USB-C Cable
1 x DJI Mini Shoulder Bag
1 x DJI Mini 4 Pro/Mini 3 Series Two-Way Charging Hub

DJI Mini 4 Pro Fly More Combo Plus (DJI RC-2)
1 x DJI Mini 4 Pro
1 x DJI RC-2
3 x DJI Mini 4 Pro/Mini 3 Series Intelligent Flight Battery Plus
3 x DJI Mini 4 Pro/Mini 3 Pro Propellers (Pair) (Screws Included)
1 x Screwdriver
1 x DJI Mini 4 Pro Gimbal Protector
1 x DJI Mini 4 Pro Propeller Holder
1 x Documents (Quick Start Guide and Safety Guidelines)
1 x Type-C to Type-C PD Cable
1 x USB-C Cable
1 x DJI Mini Shoulder Bag
1 x DJI Mini 4 Pro/Mini 3 Series Two-Way Charging Hub
 

DJI Mini 4 Pro

DJI Mini 3 Pro

DJI Mini 3

DJI Air 3

Under 249 g

Under 249 g

Under 249 g

720 g

1/1.3-inch CMOS Wide-Angle Camera

1/1.3-inch CMOS Wide-Angle Camera

1/1.3-inch CMOS Wide-Angle Camera

1/1.3-inch CMOS Wide-Angle Camera

1/1.3-inch CMOS Medium Tele Camera

4K/60fps HDR




Slow Motion: 4K/100fps




Night Shots Video




10-bit D-Log M, HLG

4K/60fps, 4K/30fps HDR




Slow Motion: 1080p/120fps

4K/30fps HDR

4K/60fps HDR




Slow Motion: 4K/100fps




Night Shots Video

Omnidirectional Obstacle Sensing, APAS 5.0




Advanced RTH, Waypoint Flight, Cruise Control

Forward/Backward/Downward Obstacle Sensing, APAS 4.0




Smart RTH

Downward Obstacle Sensing




Smart RTH

Omnidirectional Obstacle Sensing, APAS 5.0




Advanced RTH, Waypoint Flight, Cruise Control

DJI O4: Up to 20 km




1080p/60fps Live Feed

DJI O3: Up to 12 km




1080p/30fps Live Feed

DJI O2: Up to 10 km




720p/30fps Live Feed

DJI O4: Up to 20 km




1080p/60fps Live Feed
Available accessories coming online soon. To include: