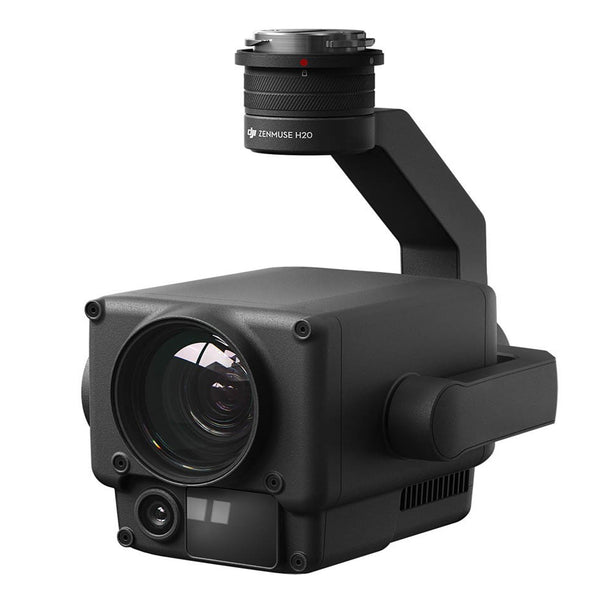 SUMMARY

SPECS

IN THE BOX

VIDEOS
Three-in-one camera:Wide Angle + Zoom Camera + Laser Rangefinder. IP44 rated,  active image stabilization and EIS. Night scene mode, the camera will switch the IR filter and adjust the ISP parameters to optimize for low light environments.

Wide Camera: 12 MP 1/2.3" CMOS (24mm Focal Length, 82.9° DFOV)
Zoom Camera: 20 MP 1/1.7" CMOS (23x Hybrid Optical Zoom, 200x max zoom)
Laser RangeFinder: 3/4 mile (1200m) Range
COMPATIBILITY
Matrice 300
INTELLIGENT FUNCTIONS
Click to Aim: No more having to waste time trying to use your gimbal yaw and tilt controls, simply double-click on the point of interest and your camera/gimbal will automatically move to the point of interest.

Smart Track: Identify and follow moving subjects like people, vehicles, and boats with the auto-zoom function, while continuously acquiring the subject's dynamic location.

High-Res Grid Photo: This function allows you to take an overview photo using the wide camera sensor, and using the zoom camera, a set of 20 MP images will be captured of the grid area. This allows you to efficiently be able to observe a subject and easily be able to view the subject in greater detail.

Night Scene: This is a similar function to what we previously had on DJI's Zenmuse Z30 camera with IR cut. In Night Scene Mode you can simply turn on an IR filter on the zoom camera/sensor which provides great vision benefits in low-light environments.


 
General
| | |
| --- | --- |
| Weight | 678±5 g |
| Dimensions | 150×114×151 mm |
| Ingress Protection (IP) Rating | IP44 |
| Operating Temperature | -20° to 50° C (Temperature Measurement is only available between -10° to 50° C) |
| Storage Temperature | -20° to 60° C |
| Laser Safety | Class 1M (IEC 60825-1:2014) |
| Supported Aircraft | Matrice 300 RTK |

Gimbal

Angular Vibration Range
±0.01°
Mount
Detachable
Controllable Range
Pitch: -120° to +30°
Yaw: ±320°
Mechanical Range
Pitch: -132.5° to +42.5°
Yaw: ±330°
Roll: -90° to +60°

Zoom Camera

Sensor
1/1.7" CMOS, 20 MP
Lens
DFOV: 66.6°-4°
Focal length: 6.83-119.94 mm (equivalent: 31.7-556.2 mm)
Aperture: f/2.8-f/11 (normal), f/1.6-f/11 (night scene)
Focus: 1 m to ∞ (wide), 8 m to ∞ (telephoto)
Focus Mode
MF/AF-C/AF-S
Exposure Mode
Auto, Manual
Exposure Compensation
±3.0 (1/3 increments)
Metering Mode
Spot metering, Center-weighted metering
AE Lock
Supported
Electronic Shutter Speed
1 ~ 1/8000 s
ISO Range
Video: 100 - 25600
Photo: 100 - 25600
Video Resolution
3840x2160@30fps, 1920x1080@30fps
Video Format
MP4
Video Subtitles
Supported
Photo Size

5184 × 3888

Photo Format
JPEG

Wide Camera

Sensor
1/2.3" CMOS, 12 MP
Lens
DFOV: 82.9°
Focal length: 4.5 mm (equivalent: 24 mm)
Aperture: f/2.8
Focus: 1 m to ∞
Exposure Mode
Auto
Exposure Compensation
±3.0 (1/3 increments)
Metering Mode
Spot metering, Center-weighted metering
AE Lock
Supported
Shutter Speed
1 ~ 1/8000
ISO Range
Video: 100 - 25600
Photo: 100 - 25600
Video Resolution
1920×1080@30fps
Video Format
MP4
Video Subtitles
Supported
Photo Size
4056 x 3040
Photo Format
JPEG

Laser Rangefinder

Wave Length
905 nm

Measurement Range
3-1200 m (to a vertical surface with ≥12m diameter and 20% reflection rate)
Measurement Accuracy
± (0.2 m + D×0.15%)
D is the distance to a vertical surface

Zenmuse H20 Features

| | |
| --- | --- |
| Hybrid Optical Zoom | 23x |
| Max. Zoom | 200x |
| One Click Capture | One click to save the video or picture of 3 cameras (zoom, wide and thermal camera) simultaneously |
| Point to Aim | Double click on the wide/thermal camera view, then the system will automatically move the gimbal to focus on the point of interest |
| High-Res Grid Photo | Frame an area of interest in wide camera view, and the zoom camera will automatically capture a set of 20 MP images of the area. These images are stored together with an overview image that can be viewed in greater detail. |
| Night Scene | Supported (zoom camera only) |
| Timestamp | Including GPS, date, and time |

Storage

Supported SD Card
MicroSD card (Max capacity: 128 GB, UHS-1 Speed Grade 3 required)
Supported File Systems
FAT32 (≤ 32 GB), exFAT (> 32 GB)
Recommended Micro SD Cards
TOSHIBA EXCERIA PRO 32GB micro SD HC II
SanDisk_Extreme PRO_32GB_3_A1_micro SD V30 HC I
TOSHIBA EXCERIA PRO 64GB micro SD XC II
SanDisk_Extreme PRO_64GB_3_A2_micro SD V30 XC I
SAMSUNG_EVO_128GB_micro SD 3 XC I
TOSHIBA EXCERIA M303E 32GB micro SD HC I
TOSHIBA EXCERIA M303E 64GB micro SD XC I
TOSHIBA EXCERIA M303E 64GB micro SD XC I
TOSHIBA EXCERIA M303 128GB micro SD XC I
SAMSUNG_EVO_64GB_micro SD 3 XC I
H20 Camera, 32 GB microSD card, storage case and lens cleaning cloth