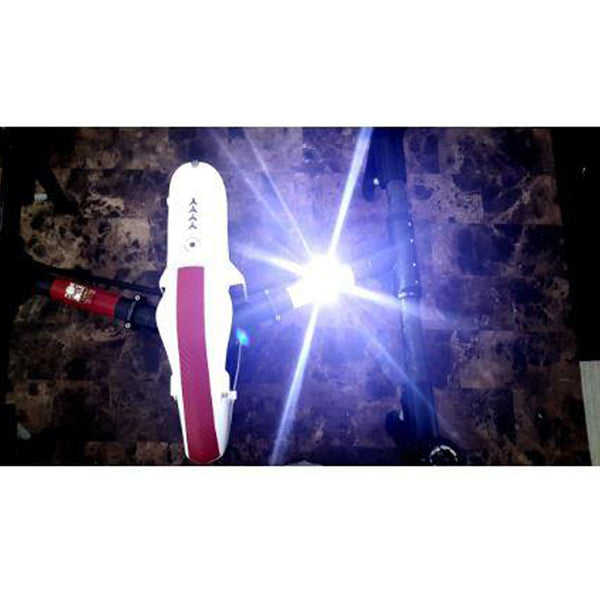 Dual Strobe Light 2-Pack For DJI Inspire 1, 2, Mavic Pro, Phantom, Spark, Quadcopters & RC Plane
This is a 2-pack of Firehouse's best-selling "Dual" Model Drone Strobes, compatible with FAA 107.29 and CAA guidelines for twilight and night operations.  The Dual Strobe lights have 3 modes: fixed, flash and spot.  They are fully independent with no wiring needed. They can be easily mounted on all drones and RC fixed wing planes. For 360-degree coverage, it is recommended that you mount one light on top of the aircraft and one on the bottom.  This set up aids the pilot on the ground to maintain visual contact with the aircraft. The lights are independent of the aircraft electrical system and are powered by their own internal Lipo batteries so there is no impact on flight time or flight dynamics.This complete set includes the following:  2-Dual Cree Strobe Lights, USB Charge Cable for lights and 3M mounting tape. 
Every LED color has different chemical compounds and efficiency, so use White or Red for FAA 107.29 for greatest range...and other colors for Navigation 
 
WHITE :  The best visibility and efficiency. 
RED      : 2nd for visibility, efficiency is same as white but the best for warning. 
GREEN :  3rd for visibility and  efficiency.  Best for Standard Red/Green (Left/Right) navigation usage.
BLUE:     4th in visibility and also efficiency.  We recommend this for special usage rather than visibility or navigation. 

Bottom line: White and Red are the best options if you need long range visible strobes. Green can be used to identify your flying platform direction. Blue is only for special applications. 

Features
Compliant with FAA 107.29 and CAA guidelines for night operations.
2 hours in strobe mode of continuous operation with onboard battery.
Powerful 5W LED
No Cabling required
Easy to use single button interface.
On board battery status and charge indicator system.
Compatible with all 5V MicroUSB cables and chargers.
Battery with internal overcharge and discharge protection.
Usage
ON/OFF: Press and hold the button for 3 seconds to turn ON or OFF
Tap button to switch between modes  Strobe, Flash and Fixed (spot)
CHARGE: Plug it to any micro USB charger or computer port when charging required.
- The LED will blink once letting you know it charging solid is full
- It takes 2 hours for empty batteries. 
Notice from manufacturer: The battery includes its own PCM module. This module protects the battery from overcharge and discharge for long lifespan. If there is no life sign on the circuit when you press the button, probably discharge protection has activated because of low battery voltage. Just charge it.
Specifications
Dimensions: 22mm x 18mm x 10mm
Weight: 4gr
Current Consumption: <15mA per hour
Charge Port: MicroUSB
Charge Current: 40mA max.
Charge Time: ~2 hours