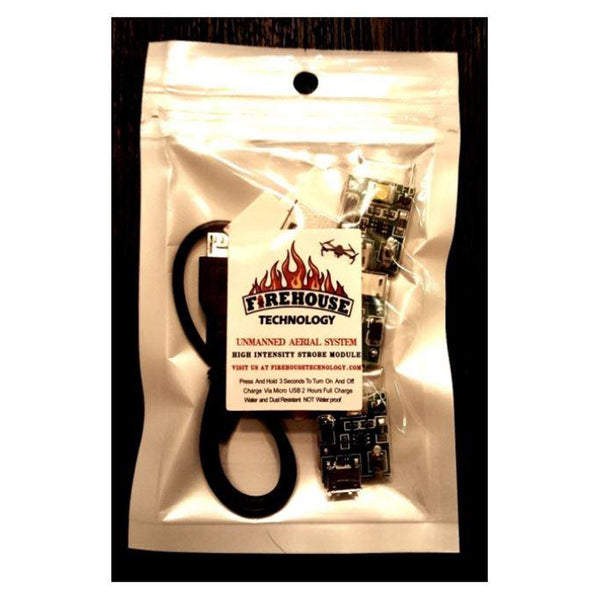 "Dual" Strobe Lighting Kit (3 Dual lights- White/Red Green) Light Package. Works on all Aircraft and RC
This is a combined package which includes 3 Dual high intensity Cree strobes (Red/White/Green) that feature 3 Modes: Strobe, Flash and Fixed.
Set includes the following: 1- White Strobe, 1 - Red Strobe, 1 Green,  USB Charge Cable for lights and 3M mounting tape. 
FEATURES
Meets FAA 107.29 Requirements for night/twilight flights.
Fully independent of the aircraft electrical system 

(with no wiring needed)

Great for navigation and finding a downed or lost drone

Not brand specific: these lights can be easily mounted on all Drones and RC Fixed Wing Planes

2-4 hours continuous operation with onboard battery.
Powerful 5W LEDs
Compatible with all 5V MicroUSB cables and chargers.
Contact Pads(L+ and L-) for the external LED support.
Battery with internal overcharge and discharge protection.
EASY TO USE
Single button interface 
3 Modes tap button to change between strobe, flash and fixed (spot)
Plug it to any micro USB charger or computer port when charging is required.
The LED blinks when charging and is fixed when full to prevent overcharge
SPECIFICATIONS
Weight: 4gr
Current Consumption: <15mA per hour
Charge Port: MicroUSB
Charge Current: 40mA max.
Charge Time: ~2 hours
Dimensions: 22mm x 18mm x 10mm