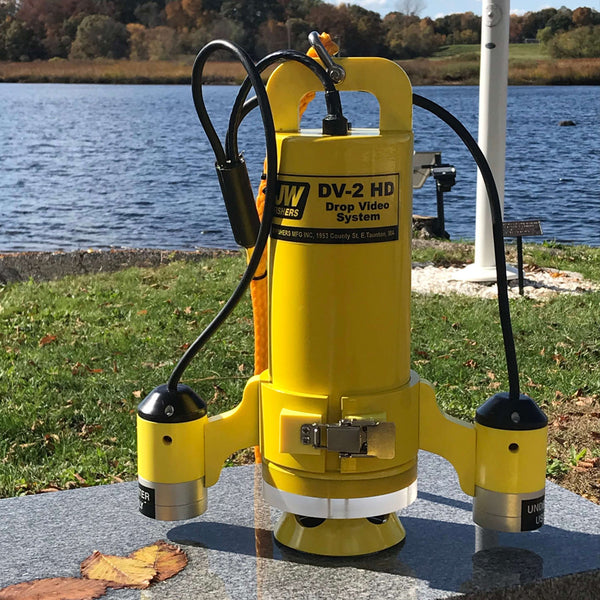 SUMMARY

More Details:

Options:

Videos:
For more action shots, check out our
 

Photos/Videos

 

page
Fishers most economical underwater camera system designed for boat deployment.
JW Fishers DV-2 HD system is the next generation dropped video camera now coming standard with full-HD video! The HD-TVI camera produces 1920 x 1080 (1080p) full-HD video for sharp, detailed imaging. HD-TVI technology supports longer cable transmission distances while allowing the picture to still travel over standard coax cable, producing a zero-latency, high definition video experience.
The DV-2 dropped video system provides a cost-effective method for underwater search and inspection operations. The system is deployed over the side of the vessel and lowered to the bottom. Targets can be verified and recorded without incurring time consuming check out dives. The camera is capable of both downward and side viewing.
The real time video sent topside from the underwater camera can be viewed on a video monitor, a TV with an HDMI connection, or Fishers VRM-2 HD. The VRM-2 HD has a built-in 10.4-inch flat screen ultra-bright display which makes it easy to see even on sunny days; and it has a built-in digital video recorder that records up to 12 hours of video on an SD card. Download the VRM-2 technical data sheet for additional information.
The DV-2 HD system includes a 0.01 lux color camera in a corrosion-proof PVC housing with built in leak detection system, two fully adjustable, 1500 lumen LEDs and a 150-foot deployment cable (Kevlar reinforced).
Older model dropped video systems CANNOT be upgraded to HD technology due to the multiple hardware and software modifications. Please enquire about a credit towards a new system if HD capability is required.
1080p HD-TVI video
Standard system comes with 150 foot Kevlar reinforced cable
100-240 vac power
The system is backed by Fishers exclusive, unconditional TWO YEAR warranty.
Additional cable:

 

$3/ft
Housing (1,000'):

 

$495
Industrial cable (for lengths over 500'):

 

$6 per foot
Underwater Cable Connector:

 

$595
CMS-1 Cable Management system (cable reel up to 500'):

 

$2,995
CMS-2 Cable Management system (cable reel up to 1,000'):

 

$3,495
VRM-2 HD Video Recorder and Monitor:

 

$3,895
Hard Carry Case:

 

$375