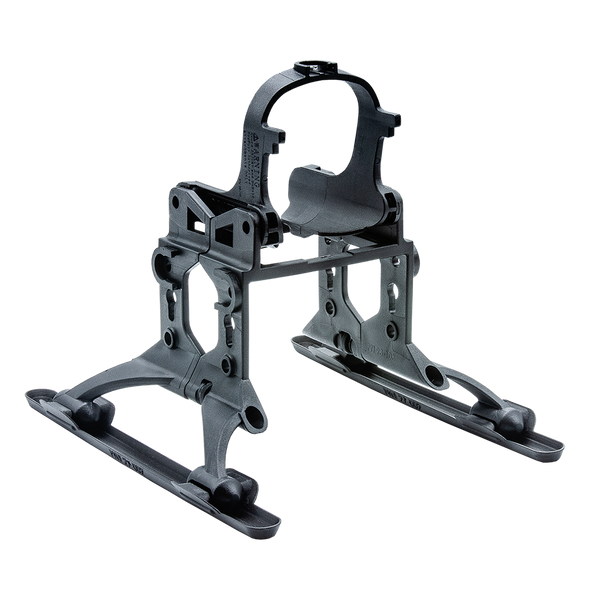 Exolander Lighting Mounts by FoxFury for EVO II and DJI Mavic 2 drones
Easily identify, locate and assist critical missions using the innovative EXOLANDER© Landing, Lighting and Payload release Systems for the Autel Robotics EVO II and DJI Mavic 2-series drones. Several options to choose from:
a) Exolander Landing System for EVO II
This advanced system includes:

EVO II Saddle Mount: The saddle connects the EXOLANDER© frame to the drone and can be used to hold (7) D10 or D3060 lights. D10 and D3060 are not included and must be purchased separately. These lights serve as anti-collision lights for night flight regulation compliance.

Exolander Mount: This apparatus securely supports the D100 drone light for maintaining proper CG (Center of Gravity) on the drone. The EXOLANDER© has 10 hard points for mounting various accessories and may be attached/removed from the Autel EVO II aircraft without tools.

Landing Skids: The landing skids allow the drone to land on snow, mud, and uneven surfaces, protects the camera from impact, and stabilizes the aircraft when landing.

b) Exolander Payload System for EVO II
Includes the same as the landing system above, plus:

Manual Payload Delivery System: This system enables public safety users to drop radios, space blankets, water bottle, first-aid kits, or other small assistive devices in situations where rescuers cannot reach or clearly communicate with a victim. The lightweight system is also designed to carry safety lines to stranded or drowning swimmers, and has been tested pulling over 400' of 550 cord to a swimmer in the ocean. The Payload Delivery System is designed to work with Autel EVO II or DJI Mavic 2 drones combined with the Exolander mount.
​
c) Exolander Landing System for DJI Mavic Pro 
Includes the same as option A, but tailored for Mavic Pro drone body rather than EVO II
d) Exolander D3060 Light System for DJI Mavic Pro 
Includes the same as option A, but tailored for Mavic Pro drone body and includes two D3060 lights
e) Exolander D3060 Light System for DJI Mavic 2 Enterprise 
Includes the same as option A, but tailored for Mavic 2 Enterprise drone body and includes two D3060 lights
f) Exolander Spotlight & Payload System for EVO II
Complete system includes everything in option A as well as one D100 Spotlight and Manual Payload Delivery System 
g) Exolander Spotlight System for EVO II 
Includes everything in option A as well as D100 Spotlight
 h) Exolander Rugo Mount
This apparatus securely supports the Rugo drone light for maintaining proper CG (Center of Gravity) on the Autel EVO II and DJI Mavic 2 Pro and Enterprise. (Note: does not include Rugo light - sold separately) 
EVO II Saddle Mount©
| | |
| --- | --- |
| Dimensions | 2.52 x 3.4 x 3.5 in (64 x 86 x 89 mm) |
| Weight | 1.0 oz (28.3 g) |
| Fire Resistant | Meets requirements of NFPA 1971-8.6 (2013) |
| Impact Resistant | 9.8 ft (3 m) drop |
| Materials | Nylon |
| Included Items | Saddle Mount© |
| Warranty | One Year Warranty |
| | |


EXOLANDER©
| | |
| --- | --- |
| Dimensions | 6.7 x 6.5 x 4.7 (170 x 165 x 120 mm) |
| Weight | 4.05 oz (114.7 g) |
| Fire Resistant | Meets requirements of NFPA 1971-8.6 (2013) |
| Impact Resistant | 9.8 ft (3 m) drop |
| Materials | Nylon |
| Features | 4 (four) landing pods with individual shock absorption |
| Included Items | EXOLANDER© |
| Warranty | One Year Warranty |
| | |


Rugo Mount
| | |
| --- | --- |
| Dimensions | 3.53 x 0.63 x 0.75 in (89.7 x 15.9 x 19.1 mm) |
| Weight | 0.53 oz (15 g), total weight 1.16 oz (33 g) |
| Fire Resistant | Meets requirements of NFPA 1971-8.6 (2013) |
| Impact Resistant | 9.8 ft (3 m) drop |
| Materials | Nylon and Carbon Fiber |
| Included Items | EXOLANDER© / Rugo Mount (2) Thumbscrews (2) Mounting Knobs |
| Warranty | One Year Warranty |
D100 SPOTLIGHT
| | |
| --- | --- |
| Lumens | 2,300 |
| Area Illuminated | 30 ft (9.1 m) diameter spot at 100 ft (30.48 m), 60 ft (18.3 m) diameter spot at 200 ft (60.96 m) |
| Beam Angle | 15-degree Focused Beam / Angled or Straight |
| Battery Life | 70-140 minutes |
| Power Source | (2) 18650 Lithium-Ion Batteries |
| Dimensions | 3.46 x 2.03 x 2.46 in (88 x 51.5 x 62.5 mm) |
| Weight | 8.92 oz (253.0 g), 12.23 oz (346.6 g) with provided 18650 batteries |
| Modes |  2 (Continuous On and Turbo-Strobe) |
| Fire Resistant | Meets Requirements of NFPA 1971-8.6 (2013) |
| Materials | Nylon with Carbon Fiber Body, 6061 Aluminum Heatsink |
| Impact Resistant | 9.8 ft (3 m) drop |
| Operating Temperature | Min -4°F (-20°C), Max 300°F (149°C) |
| Features | 1/4 20 mounts |
LANDING SKIDS
| | |
| --- | --- |
| Dimensions | 8.66 x 0.96 x 0.6 in (220 x 24.3 x 15 mm) |
| Weight | 0.45 oz (12.8 g) each, 0.9 oz (25.6 g) total |
| Fire Resistant | Meets requirements of NFPA 1971-8.6 (2013) |
| Impact Resistant | 9.8 ft (3 m) drop |
| Materials | Nylon with Carbon Fiber |
| Features | Snap on attachment for drones to land on soft surface |
| Included Items | Landing Skid, set of 2 |
| Warranty | One Year Warranty |
| | |