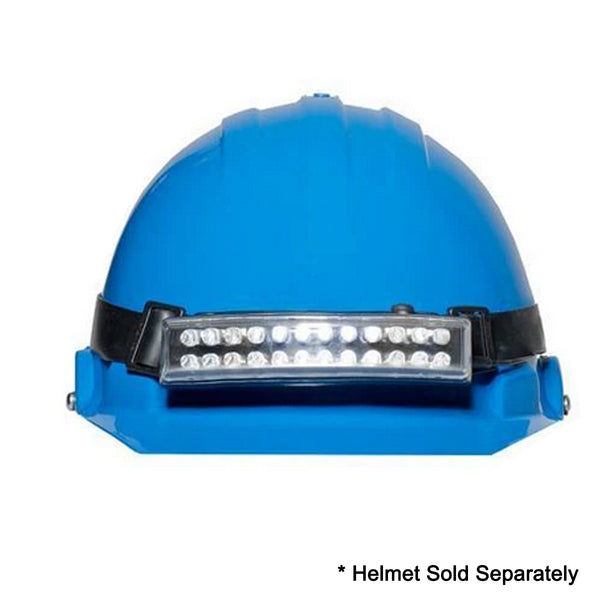 SUMMARY

SPECS

IN THE BOX

VIDEO
This Performance Intrinisic Tasker Headlight, provides panoramic lighting for an immediate situational assessment.

The lights have a silicone strap for secure and reliable mount to hard hat or helmet. The silicone improves grip, is heat resistant and can be used in high temperature applications. A tilting plate allows the light beam to be angled up or down as needed.
Choose from General Safety or Fire option. The Fire light has a white and green LED for enhanced depth perception and color rendition, whereas the safety version provides all white LED light.


Lumens: 54 Lumens
Battery Life: 6-8 hours
Beam Distance: 71 ft (22 m)
Beam Angle: 45°
Weight: 11.2 oz (318 g)
Dimensions: 1.1 x 5.5 x 1.3 in
Operating Temp: -4°F (-20°C) to 300°F (149°C)
Material: Nylon 66 housing with polycarbonate lens, Silicone cable

DURABILITY
IPX7 Rated, UL 913 Class 1, Division 1 Groups A, B, C, D T6 & Class 1, Division 2 Groups A, B, C, D T6
Fire Resistant, NFPA 1971-8.6 (2013)
Waterproof, 20-ft
Impact Resistant, Up to 9.8 ft
Rechargeable Quick Swap Power Pack

Helmet Light,
Two (2) O-Rings with Silicone Grease
Cable Guide
W-Clip (installed on battery pack)

REQUIRES
AA Batteries: Qty 4
EXTRAS
Silicone Glow Straw (P/N 600-026)
Silicone Black Strap (P/N 600-027)
WARRANTY
Limited Lifetime