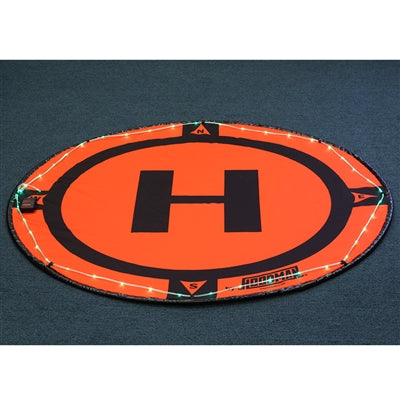 Drone Launch Pad Light Kits by Hoodman
This is your solution for flying at night or in low-visibility conditions. Light-up kits are an easy way to illuminate your home base.
The battery operated LED light kit will operate for over 50 hours on a 3 AA batteries. Set up by affixing the power pack to the Velcro patch sewn into the West compass mark of your Hoodman Orange Drone Launch Pad. Next, string the light cord through the loops sewn at the perimeter of the Launch Pad. Light Kits have 4 settings: Continuous On, Flashing, Phasing and Off. Low-level green lights improve vision detail and clarity without shutting down your night vision pupil dilation. FAA Heliport lights are green for the same reason. 
Comes with 1 year warranty.
Note: Launch pad not included. 
*Fits 3 & 5Ft Landing pads.