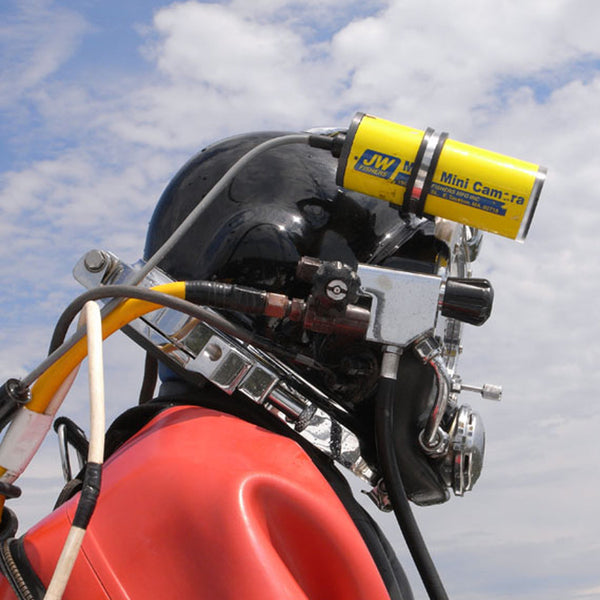 SUMMARY

More Details:

Options: 

Video:
MC-2 HD Mini Camera - JW Fishers lowest cost underwater video system.

JW Fishers MC-2 HD Mini Camera is an underwater camera designed for a variety of applications. The HD-TVI camera produces 1920 x 1080 (1080p) full-HD video for sharp, detailed imaging. HD-TVI technology supports longer cable transmission distances while allowing the picture to still travel over standard coax cable, producing a zero-latency, high definition video experience.
The Mini Camera is so compact and lightweight it can easily be mounted to a diver's helmet or lowered into a pipe for internal inspections. The MC-2 HD can assist the commercial diver performing underwater structure inspections, or be lowered into the water on a pole to perform shallow water inspections from the surface. Two light options are available; an internal LED light ring or external 1500 lumen LED lights. The LED light ring is excellent for close up viewing of underwater objects, the external light(s) are more powerful and have a broader beam for viewing objects at a greater range.
The base system includes a includes a .08 lux, 1920 x 1080p, 2.1 mega-pixel camera, a 1,000-foot depth rated housing and 150 feet of cable. The camera produces sharp, clear video that is sent topside from the underwater camera and can be viewed on a video monitor, a TV with a HDMI input jack, or Fishers VRM-2 HD. The video can also be recorded on our VRM-2 HD video monitor and recorder. T The VRM-2 has a built-in 10.4-inch flat screen ultra-bright display which makes it easy to see even on sunny days; and it has a built-in digital video recorder that records up to 12 hours of video on an SD card. Download the VRM-2 HD technical data sheet for additional information.
Older model Mini Camera systems CANNOT be upgraded to HD technology due to the multiple hardware and software modifications. Please enquire about a credit towards a new system if HD capability is required.
1080p HD-TVI video
Standard system comes with 150 foot Kevlar reinforced cable
Surface powered by 100-240 vac
The system is backed by Fishers exclusive, unconditional TWO YEAR warranty.
Extra cable:

 

$3 per foot
Internal Light Ring:

 

$295
External 1500 lumen light:

 

$395
Two external 1500 lumen lights, mounting bracket, and handle (requires 120vac):

 

$995
Adaptor for pole mounting (pole not included):

 

$225
Video Recorder and Monitor (VRM-2 HD):

 

$3,895