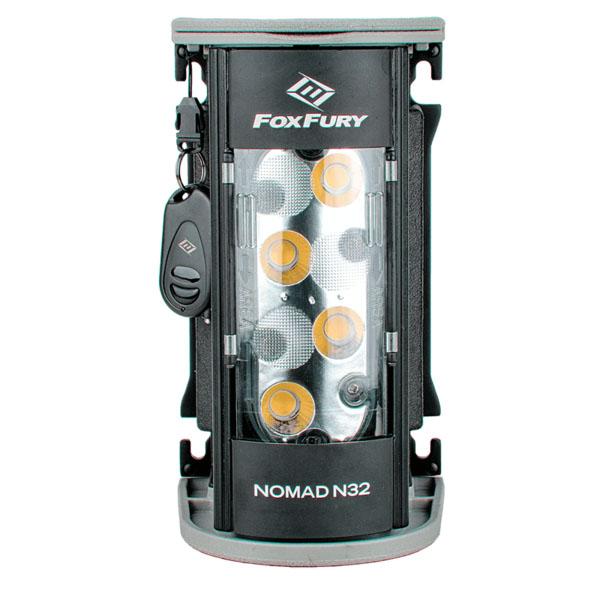 SUMMARY

IN THE BOX

 VIDEOS
Nomad N32 Production Light from Fox Fury
Features:
 Self-contained with a built-in carry handle.
Compact, easy to transport
Cordless
For use indoors, outdoors or underwater
3 modes including a low, medium, high and flashing setting enable the user to adjust light intensity according to the situation.
Waterproof, fire and impact resistant
High quality CRI tungsten lighting
Rechargeable battery
3200K daylight balanced light
95 CRI
Remote activation
Stackable
Mounts on magnet, wall, and tripod
Head rotates 45 degrees in either direction
The cordless FoxFury Nomad N32 delivers studio quality lighting outside of the studio. Instantly light up any photo or video shoot with the battery powered Nomad N32 Production Light. This portable production light can function as a lantern or be magnet or tripod mounted to deliver up to 2,400 lumens of 95 CRI 3200K tungsten equivalent lighting. This cordless, rechargeable LED light provides up to 24 hours of production quality lighting. This is our most compact and rugged scene light with instant activation and the option of remote activation of multiple units. It is ideal for situations where speed, compactness, portability, and/or working in severe weather or underwater are key. This includes on location photo and video shoots along with run and gun production work, documentaries and interviews at events and in the field.
The Nomad N32 is tripod mountable and can also be hung, placed on a table or ground. Multiple units can be stacked together or activated together via the remote key fob. The included magnet mount can be used to mount the Nomad N32 to metal surfaces including vehicles and buildings. This ultra-rugged light delivers warm tungsten equivalent light (3200K) in any weather and is waterproof and impact resistant. At 4.5 lbs (2 kg), it is lightweight enough to be carried by any individual and compact enough to store multiple units in a carry-on suitcase. The Nomad N32 is used by photographers, videographers, aerial cinematographers and producers to quickly light and effectively capture photos and videos for use in broadcast, documentaries and on location productions. [Patent Pending].
Remote Key Fob
Magnet Mount
AC Cable
AC-DC Adaptor
12VDC Vehicle Adaptor
Small FoxFury Duffel Bag
1/4"" - 20 Threaded Set Screw
Consider adding the Tripo-Scope M1 to your cart so that you can mount these lights!