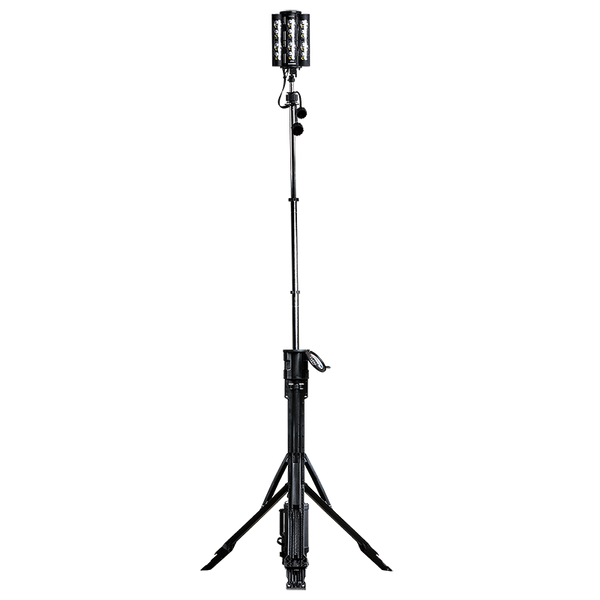 SUMMARY

Features:

IN THE BOX

VIDEOS
Nomad Transformer Scene Light
The FoxFury Nomad Transformer is an extra tall portable scene light. It's compact, easy to transport and needs no cords or generators, which makes for a quieter and safer job site. With built-in tripod legs, the Nomad Transformer extends up to 12.9 ft (3.9 m) tall to deliver up to 16,000 lumens. This cordless, rechargeable LED light can operate as a spotlight, flood light or 360° scene light with a run time of up to 24 hours. This is the brightest and tallest scene light available by FoxFury for large scale events where portability, maximum power and silent operation are key. This includes road projects, security checkpoints, temporary shelters, accident and crime scenes, special events and emergency and disaster response.
Combination area light, spotlight and scene light
Different tasks require different lighting needs. Some cases demand light in all directions. As an area-spot and scene light, this light provides three types of lights in one due to its Sliding Diffuser Lens.
Area light:

 fold out light panels and slide diffuser lens down for 120° flood light
Spotlight: 

fold out light panels and slide diffuser lens up for 12° focused light
Scene light:

 fold in light panels for 360° scene lighting 
Rugged
This rugged light is tough enough for any job. Its nylon body withstands impact and the heat of a fire scene.
All-Weather and Waterproof
This fully submersible lighting tool can be used underwater (up to 10 ft). Its all-weather design can thrive in the summer desert heat, heavy rain, the cold of a snow storm... and everything in between.
Up to 24 Hours of Battery Life
Some events are over in a few hours and require as much as lighting as possible (vehicle extrication, EMS, etc.). The Nomad provides 3 continuous hours of light on its high mode. Other events are far more involved. The low mode provides 24 hours of continuous light for extended work period (power failure, large event in rural area, etc.)
Overhead Tripod Light
Many portable area lights only extend to 6ft (1.8 m) tall, which is near the eye level and potentially blinding. The Transformer extends up to 12ft (3.7 m) tall to deliver overhead lighting that does not blind the user.
Solo Operation and 60-second Deployment
The Transformer stows as a 3 separate pieces weighing a total of 53.5 (24.25 kg). A carry strap is included for easy transport. The light is designed so that an individual can deploy it in 60 seconds.
Battery Life Indicator
At a scene, you'll want to keep track of how much light you have left. Every Nomad is equipped with a battery life indicator, which changes color from green to orange to red as the battery drains.
Available either as original or "trade compliant", meaning it was entirely made in the USA.
Portable and cordless
Rechargeable
3 lights in one: scene light, area light, and spotlight
Head rotates 340 degrees and tilts up and down
Remote activation within 20 ft (6 m)
Waterproof, fire resistant, impact resistant
Adaptor and DC Cord Set
Carry Strap
Transformer Leash
(2) Remote Key Fob
FoxFury Duffel Bag
Transformer Light Head Bag
(3) 3M Safety Tape Strips
(3) 3M 12"" Tape Strips