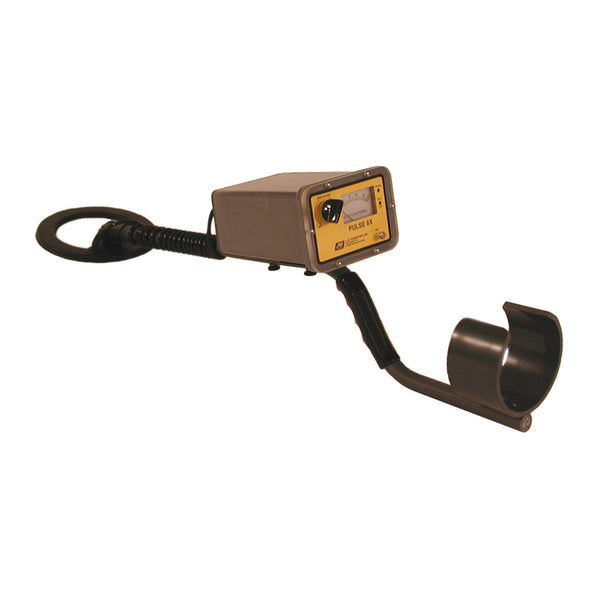 SUMMARY

More Details: 

Options: 
The Pulse 6X has the same top quality construction and 200 foot depth rating as the top-performing Pulse 8X, but with less detection range. The Pulse 6X not only shares many of the same features, but it can be upgraded to the Pulse 8X at any time. No other detector is available with this type of upgrade feature. The Pulse 6X is in use by military, law enforcement, commercial, and salvage divers worldwide.
The claim-to-fame of this pulse induction metal detector is it's ability to ignore minerals in the environment while maintaining high sensitivity to all metal targets. The Pulse 6X is not affected by highly mineralized salt water, coral, rocks with a high iron content, or magnetic (black) sand; all of which drive conventional detectors crazy.
The Pulse 6X detects all metals from coins and jewelry, to anchors and cannons. The diver is alerted to presence of a metal target by both visual readout (shown on the meter) and an audio output (heard in the underwater earphone). The detection range for a target is unaffected by the medium between the detector's coil and the metal object. Performance does not vary whether detecting through air, water, silt, sand, or solid coral.
Powered by an internal 9 volt rechargeable battery pack, the detector will easily run all day on a full charge. Recharge the battery overnight and its ready for another full day day of hunting. The Pulse 6X comes with all the accessories needed to use the detector on land and to dive to depths of over 200 feet. The standard package includes a corrosion proof PVC handle for underwater use and an anodized aluminum handle for land use. The package also includes an underwater earphone, AC and DC battery chargers, a hip-mount kit for the electronics housing, a spare parts kit, and JW Fishers Search Team hat. See below for additional options.
Commercial grade construction, full meter readout, audio jack with detachable earphones, rechargeable batteries, and optional interchangeable coils. The variety of different coil sizes available allow this detector to be used on land, underwater, or deployed from a boat.
The Pulse 6X is backed by Fishers exclusive, unconditional TWO YEAR warranty.
Underwater Connector for Coil:

 

$150
Dual Underwater Earphones:

 

$195
Carry Bag:

 

$50
Extra Battery Pack:

 

$75
10" Coil:

 

$195.
5" Coil:

 

$175
16" Coil With Shorter Handle:

 

$395
18" Coil for Boat Deployment:

 

$895
8" x 48" coil, skids & 100' cable:

 

$1,495
Probe coil (1" dia x 22" long):

 

$295