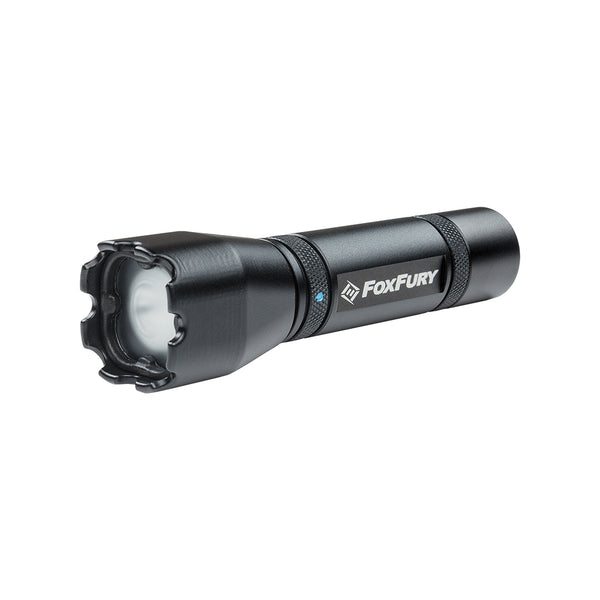 Rook Forensic Lights by Fox Fury
The Rook Forensic Light System is used by field crime scene search, lab and medicolegal (including SANE, coroners and medical examiners) personnel to look for serological / body fluids (including urine and semen), accelerants (oil, gas, turpentine), bite marks, bruising and trace evidence (hairs and fibers). This handheld LED light enables the investigator to visualize forensic evidence up to 6 ft (1.8 m) away. It comes with a lanyard and one pair of yellow or orange goggles, and is powered by 2 lithium CR123 batteries or 1 rechargeable battery. Each highly durable flashlight is made of high quality aluminum. It withstands impact and is suitable for use underwater (IPX7 rating). There are 4 options to choose from, each with similar attributes. All lights are backed by FoxFury's limited lifetime warranty. 

See available kits for a combination of lights in a complete system.
Special Features:

Anti-Roll Head: One of the last things you want to experience at a crime scene is having your flashlight roll (especially off a surface) as that means you risk contaminating the scene. This flashlight's square anti-roll head prevent this from happening.
Rugged: Looking for evidence can be a messy job and you don't want to contaminate future scenes. The Rook is fully waterproof and can be easily cleaned and disinfected after each use.
Additionally:

Rook 450 + 470nm Blue AND the Rook 380 + 395 nm UV Light Systems BOTH have:

2 wavelengths and 2 peak intensities because depending on the scene and situation, one wavelength may be better than another. Frosted lens distributes light evenly to eliminate shadows and artifacts.

Rook 365nm UV Forensic Light System

Accurate within 5nm: FoxFury forensic lights sources (FLS) are precise lighting tools. They are accurate within 5nm, which helps in visualizing fluorescence / absorption in evidence.

Rook 450 + 470nm Blue Forensic Light System

This light features the 2 most popular blue light wavelengths to increase your odds of finding forensic evidence. You can even use 450nm and 470 nm concurrently for better results. Light is accurate to ±3nm