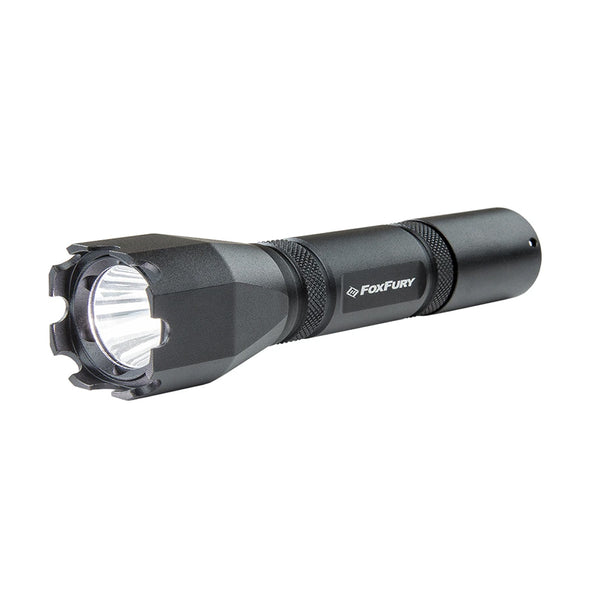 Rook MD1 LED Flashlight by FoxFury
The FoxFury Rook MD1 LED Flashlight is used by field crime scene search, lab and medicolegal (including SANE, coroners and medical examiners) personnel to search the scene for evidence. This handheld LED light enables the investigator to visualize forensic evidence up to 6 ft (1.8 m) away. It is powered by 2 lithium CR123 batteries or 1 rechargeable 18650 battery.
Rugged
This highly durable flashlight is made of high quality aluminum. It withstands impact and is suitable for use underwater.
Turbo-Strobe Mode
This light features a varying frequency strobe mode is used to disorient individuals when necessary. It is included as a means of self defense so that you have time to get out of harm's way.
Rechargeable Battery Option
Rook flashlights run on two CR123 batteries. If you'd like to use a rechargeable power source, this light can also run on one rechargeable 18650 battery, which could save you time and money in the long run.
Anti-roll head
Many flashlights on the market have a round head that cause the light to roll when laid flat. Rook Series flashlights feature a square anti-roll head so that it will stay put no matter how you have it on a surface.
Strike Bezel
In a potentially life or death emergency situation, you may need a little help. The strike bezel is strong enough to shatter your glass car windshield and is effective if/when used in self defense situations.
Technical Specifications
Lumens: 280 Lumens
Battery Life: Up to 7 Hours
Power Source: (2) CR123 batteries or (1) 18650 battery. Batteries - not included
Modes: 2 (Low, High)
Weight: 4.8 oz (136 g)
Dimensions: 5.1 x 1.3 x 1.0 in (129 x 33 x 33mm)
Certifications: CE
IPX7 Certified: IPX7
Fire Resistant: Meets Requirements of NFPA 1971-8.6 (2013)
Waterproof: 3.3 ft (1 m)
Impact Resistant: 6.6 ft (2 m)
LED Color: White
Operating Temperature: -4°F (-20°C) to 300°F (149°C)
Materials: 6061-T6 Aluminum hard anodized housing
Features: Square non-roll head; Strike Bezel; Tactical switch (rear)
Max.Operational Distance: 6 ft (1.8 m)