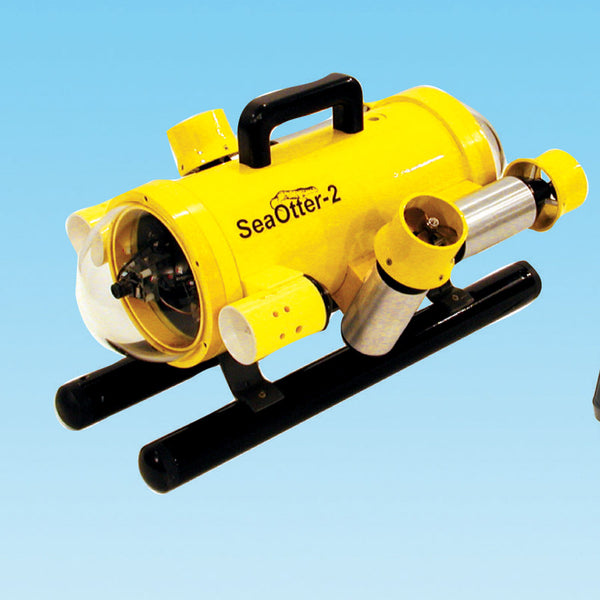 SUMMARY

OPTIONS

IN THE BOX

VIDEOS
Fishers ROVs are completely mobile underwater camera systems that are controlled from the surface and capable of staying submerged indefinitely. These ROVs are ideally suited to a variety of applications including pipeline inspections, river and ocean searches, dam surveys, oil and gas platform work, fish farming, and homeland security operations. They can dramatically reduce search time, as well as the risk and high cost associated with diving operations. Equipped with the RMD-1 remote metal detector the ROV becomes a high tech search system capable of locating weapons, unexploded ordnance, pipelines, buried treasure, and other metal objects.
Both the SeaLion-2 and SeaOtter-2 come with carry case.
The SeaOtter-2 has many of the same features of the SeaLion-2, but is not as powerful. It is best suited to working in areas with low to medium currents. This ROV also has front and rear facing color cameras with pan and tilt. Illumination for the front camera is provided by two, fully adjustable 2200 lumen LED's. Lighting for the rear camera is provided by a ring of high intensity LEDs. The SeaOtter-2 has a 500 foot depth rated housing and comes with 250 feet of cable. System controls are cleanly laid out in a high impact waterproof case with an ultra bright 10.5 inch flat screen monitor built into the lid. Command of the ROV's thrusters, cameras, and lights are managed with a compact hand-held controller.
A wireless controller can also be used to give the operator even greater freedom. A gentle push on the vertical joystick propels the vehicle down into the depths, and a nudge on the horizontal sends the ROV flying over the ocean floor. The control panel has jacks and amplifiers which make it adaptable to the requirements of each job. A video output jack allows an additional remote monitor to be used simultaneously with the internal flat screen monitor. Other viewers can see the world below without crowding around the control console. An internal video amplifier adjusts picture quality to optimize the video for water clarity. Connect an external DVR recorder and make a permanent record of the underwater scene. With the internal audio amplifier voice can also record with the video picture.
Additional cable: $8/ft
CMS-1 Cable Management system (cable reel up to 250'): $2,995
CMS-2 Cable Management system (cable reel up to 1,000'): $3,495
Basic Spare Parts Kit: $1,495
Additional sensors for compass/depth/temp: $1,495
Single function (open/close) manipulator arm: $2,995
220 vac (transformer): $275
External DVR recorder: $295
ROV metal detector and surface display: $12,995
SCAN-650 Scanning Sonar: $7,495
GoPro® camera with 1,000 foot depth rated housing: $995
ROV, Front and rear facing color cameras with pan & tilt, control box with built in 10.5 inch monitor, user friendly compact hand-held controller (wireless controller can also be used), four powerful thrusters, 500 foot depth rated housing, 250 feet of cable included with the system, two fully adjustable 2200 lumen LEDS on front, LED light ring on back, video output jack for remote monitor, video amplifier to adjust picture quality, audio amplifier to record voice with video, the ROV's small size and light weight make it easy for one person to deploy and operate.
SeaOtter-2 is backed by Fishers exclusive, unconditional TWO YEAR warranty.
In the News
"The West Tennessee Dive, Rescue and Recovery Team held a joint training exercise with the Tennessee National Guard using a JW Fishers ROV on Beech Lake in Lexington."