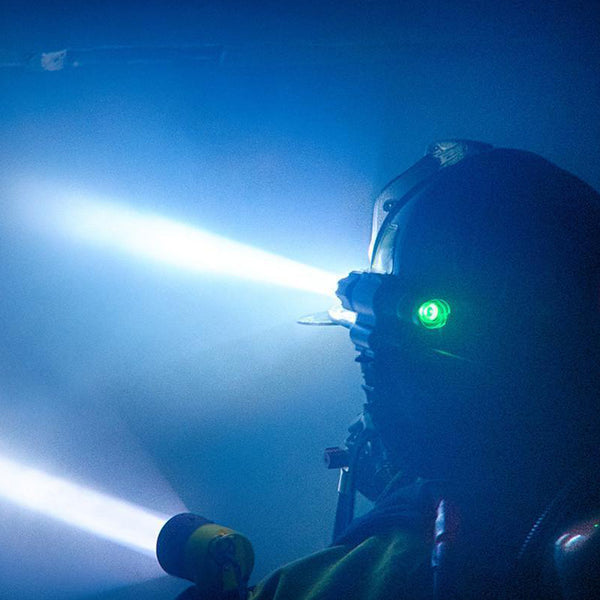 SUMMARY

SPECS

IN THE BOX

ACCESSORIES
SideSlide C-Clamp/Bolt Side Mounted Helmet Light by FoxFury
The FoxFury SideSlide C-Clamp/Bolt Side-Mounted Helmet Light is a combination flashlight and helmet light.
This rugged light comes with a custom adaptor that mounts to the side of a hard hat or firefighter helmet. Pressing and hold the release lever to slide the flashlight out. Insert the light into the holder and once locked into place, the light now becomes a hands-free helmet light. The SideSlide delivers a powerful 200 lumens focused beam and is best for use in structural firefighting along with rescue and industrial applications.
2 Lights in 1
The SideSlide is both a flashlight and side helmet-mounted light. That versatility helps out in scenarios where lighting needs change.
Rechargeable Battery Option
This flashlight runs on two CR123 batteries. If you'd like to use a rechargeable power source, this light can also run on one rechargeable 18650 battery, which could save you time and money in the long run.
Highly Visible Rear Safety LED
Being seen from behind is an asset in fire, rescue and industrial applications. The on/off switch flashes green when the light is activated and can be seen from over 1 mile away.
Rugged
This highly durable flashlight is made of high quality aluminum. It withstands impact and is suitable for use underwater.
Anti-Roll Head
One of the last things you want to experience at a crime scene is having your flashlight roll (especially off a surface) as that means you risk contaminating the scene. This flashlight's square anti-roll head prevent this from happening.
C-Clamp with Secure SideSlide Lock
The unique C-Clamp adaptor allows the light to be converted from a flashlight to a side mounted helmet light in seconds. The clamp adaptor stays secured to the helmet. The removable flashlight inserts in the adaptor and locks securely into place. The flashlight can be removed by depressing the lever on the adaptor.
Strike Bezel
In an emergency situation, this flashlight's strike bezel is strong enough to shatter your car windshield. It is also effective in self defense.
The FoxFury SideSlide is a powerful personal light. It runs on either 2 CR123 batteries or one rechargeable 18650 battery. 3 modes provide a high, low and flashing mode to provide the most appropriate light that the current situation requires. This light also features a highly visible green flashing LED in the battery pack that can be seen from over 1,200 ft (366 m) away.

The SideSlide works in all-weather conditions and can be submerged underwater.It is impact resistant and meets NFPA fire resistant requirements. It can be side mounted above or below the brim on most traditional and modern style firefighter helmets (including US style firefighter helmets utilizing goggles, visors and Bourkes eye protection) provided eye protection doesn't obstruct the light. This flashlight and helmet helps cut through smoke in structural firefighting, which helps the user operate safely and make quicker decisions.
2 lights in one: flashlight and helmet light, Secure SideSlide lock,
Rear safety LED (green), Easily accessible tap switch (even with thick gloves)
Lumens: 70 - 200 lumens

Battery Life: 3.5 - 8 Hours

Power Source: (1) 18650 or (2) CR123 Batteries - not included

Modes: 3 (High, Low, Flashing)

Weight (with batteries): 6.3 oz (179 g) *with batteries

 Weight:

C-Clamp: 3.7 oz (105 g)

Bolt Weight: 2.9 oz (82g)

Total Weight:

C-Clamp: 9 oz (225 g)

Bolt: 8.2 oz (232g)

Length: 5.5 in (140 mm)

Diameter: Body or Handle 1.1 in (28 mm)

Head Diameter: 1.3 in (33 mm)

Dimensions:

C-Clamp: 1.5 x 2.8 x 1.6 in (38 x 71 x 41 mm)

Bolt: 1.5 x 2.0 x 2.4 in (38 x 51 x 61 mm)

Certifications: IPX-7, CE, CE-EMC

Fire Resistant: Meets Requirements of NFPA 1971-8.6 (2013)

Waterproof: 3.3 ft (1 m)

Impact Resistant: 6.6 ft (2 m)

Color Temperature: 5700 K

LED Color: White

Operating Temperature: -4°F (-20°C) to 140°F (60°C)

Materials: 6061-T6 aluminum; hard anodized housing; black exterior

Beam Angle: 8 degree

Max Beam: Distance 1,200 ft (366 m)

Warranty: Limited Lifetime Warranty
SideSlide Flashlight
SideSlide C-Clamp OR Bolt Adaptor
O-Ring Replacement
Clear On/Off Button
3M Reflective Tape Strip
Rechargeable 18650 Battery, P/N 70-18650R

Battery Charger and Adaptor - AA, 18650 P/N 600-155

SideSlide C-Clamp Adaptor, P/N 85-010 OR Bolt Adaptor, P/N 85-011