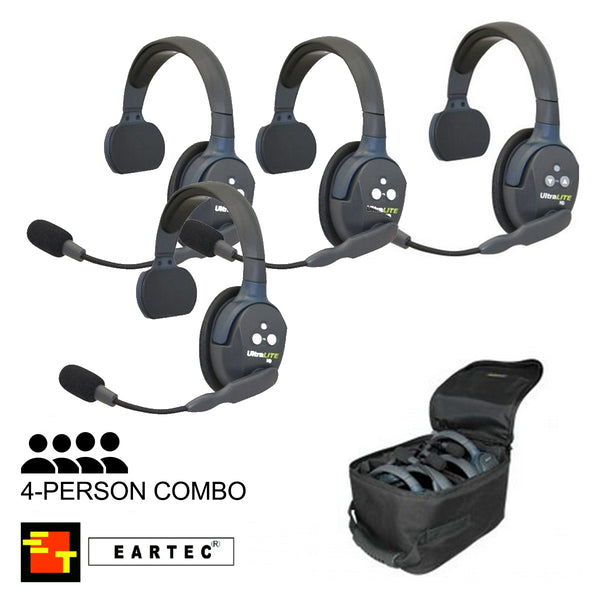 SUMMARY

SPECS

IN THE BOX

VIDEOS

ACCESSORIES
The Eartec UltraLITE™ is a professional full duplex intercom for people that need to communicate and work with their hands. This compact system features UltraLITE wireless headsets, one "Master" that sets the digital sequence, and up to four "Remote" headsets. UltraLITE utilize Digital Enhanced Cordless Technology (DECT) to provide professional, simultaneous talk wireless communication within a quarter mile range.
The UltraLITE™ series are a breakthrough because all electronics, including the battery are built right inside the headset earcups, eliminating wires and belt worn radios. The system does not require a base station, and the headsets are field programmable, meaning that the system can be expanded at any time. No FCC License Required.
UltraLITE™ Headset . UltraLITE™ headsets eclipse all other full duplex wireless for performance and convenience because the transceiver is built right inside the ear cup. This self-contained, "All in One" design eliminates headset wires and even belt worn radios. They provide simultaneous talk, two way voice communication for users that need to work with their hands yet also require one ear free to listen to what is going on around them. The mic boom arm swivels 270º so the headset can be worn on the left or right. Microphone mutes when in the up position.
Field Replaceable Lithium Battery . Each UItraLITE™ wireless headset comes complete with a rechargeable Lithium battery that is installed in a special compartment of the headset plastics. The batteries are lightweight and only about the size of a book of matches. They charge in approximately 3 hours and operate the headset for 6 hours. Since they are removable, and are charged externally in the Multi-Port charger, they can be changed out in seconds.
Multi-Port Charger . All complete UltraLITE™ wireless systems include a Multi-Port charger that charge the headset batteries in individual bays. When each battery reaches full charge the corresponding LED turns from red to green indicating that the battery is ready to go. This feature allows users to have extra batteries on hand in the charger whenever necessary.
Softside Case . Eartec's Softside Case is included to keep your wireless system stored safely. Constructed of waterproof nylon this headset bag/case includes internal compartments so the headsets stay organized. There is also a pocket with Velcro enclosure for the charger and any spare batteries. The molded hard plastic handle makes transport easy and convenient for "On Location" work.
Wireless Connectivity
| | |
| --- | --- |
| RF Bandwidth | 1728 GHz |
| Wireless Modulation | GFSK |
| DECT Standard | 6.0 |
| Duplex Mode | Time-Division Duplex (TDD) |
| RF Channel Access Method | Time-Division Multiple Access (TDMA) |
| Speech Encoding | ADPCM / 32 b/s |
| Transmission Speed | 1.15 Mb/s |
| Wireless Range | 1312' / 400 m |
| Frequency | 1920 to 1930 MHz |
Battery
| | |
| --- | --- |
| Battery Chemistry | Lithium-Ion |
| Capacity (mAh) | 800 mAh |
| Runtime | 6 Hours |
| Recharge Time | 3 Hours |
| DC Input Power | 5 VDC at 1000 mA |
Environmental
| | |
| --- | --- |
| Storage Temperature | 14 to 140°F / -10 to 60°C |
Physical
Four (4) headsets will be included with Four (4) batteries
1 Charger
1 Storage Bag
* Configuration of the headset combination (Single vs Dual) chosen by customer at time of ordering.