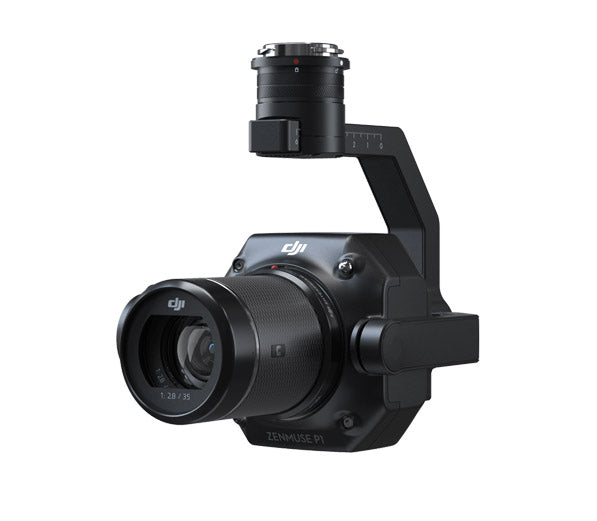 SUMMARY

SPECS

IN THE BOX

VIDEOS
The DJI Zenmuse P1 is the official mapping payload designed by DJI for the M300 RTK drone. This camera features a full-frame 45 Megapixel CMOS sensor stabilized with the Zenmuse 3-axis gimbal. The mechanical global shutter makes it the ideal camera choice for photogrammetry mapping missions, allowing for fast image acquisition while reducing rolling shutter distortions.

TimeSync 2.0 technology synchronizes system data to the center of the image, with millisecond precision to increase overall accuracy. The DJI P1 is compatible with the DJI DL Lens set (24mm, 35mm, 50mm). Map up to 3km² per flight which is 5-10x more efficient than the Phantom 4 RTK.
COMPATIBILITY
DJI Matrice 300
FEATURES
45MP Full-frame Sensor

4.4μm Pixel Size

Low-noise, high sensitivity imaging extends daily operational time

Take a photo every 0.7 s during the flight

TimeSync 2.0 aligns the camera, flight controller, RTK module, and gimbal at the microsecond level

Global Mechanical Shutter
1/2000 Shutter Speed
24/35/50 mm Lenses - Lens are not interchangeable without factory calibration

Smart Oblique Capture, where the gimbal automatically rotates to take photos at the different angles needed

Verify data quality immediately post-flight by checking the position data and number of the images acquired, as well as RTK status and positioning accuracy.

Gather geographic information of large areas in real-time using DJI Terra so that teams can make crucial decisions quickly on site.
General
Product Name
Zenmuse P1
Dimensions
198×166×129 mm
Weight
Approx. 800 g
Power
20W
IP Rating
IP4X
Supported Aircraft
Matrice 300 RTK
Operating Temperature Range
-20° to 50° C (-4° to 122° F)
Storage Temperature Range
-20° to 60° C (-4° to 140° F)
Absolute Accuracy
Horizontal: 3 cm, Vertical: 5 cm*
*Using Mapping Mission at a GSD of 3 cm and flight speed of 15 m/s, with an 75% front overlap rate and a 55% side overlap rate.
Camera
Sensor
Sensor size (Still): 35.9×24 mm (Full frame)
Sensor size (Max video recording area): 34×19 mm
Effective Pixels: 45MP
Pixel size: 4.4 μm
Supported Lenses
DJI DL 24mm F2.8 LS ASPH(ENTERPRISE) (with lens hood and balancing ring/filter), FOV 84°
DJI DL 35mm F2.8 LS ASPH(ENTERPRISE) (with lens hood and balancing ring/filter), FOV 63.5°
DJI DL 50mm F2.8 LS ASPH(ENTERPRISE) (with lens hood and balancing ring/filter), FOV 46.8°
Supported SD Cards
SD: UHS-I rating or above; Max capacity: 512 GB
Storage Files
Photo / GNSS Raw Observation Data/ Image Log File
Photo Size
3:2 (8192×5460)
Operation Modes
Photo, Video, Playback
Minimum photo interval
0.7 s
Shutter Speed
Mechanical Shutter Speed: 1/2000*-1 s
Electronic Shutter Speed: 1/8000-1 s
*Aperture value no larger than f/5.6
Aperture Range
f/2.8-f/16
ISO Range
Photo: 100-25600
Video: 100-25600
Video
Video Format
MP4
Video Resolution
16:9 (1920×1080)
16:9 (3840×2160)*
*Only 35mm lens supported
Frame Rate
60fps
Gimbal
Stabilized System
3-axis (tilt, roll, pan)
Angular Vibration Range
±0.01°
Mount
Detachable DJI SKYPORT
Mechanical Range
Tilt: -125° to +40°
Roll: -55° to +55°
Pan: ±320°
Zenmuse P1 camera, 35mm Lens, 128 GB microSD card, storage case, camera body cap, lens rear cap and cleaning cloth