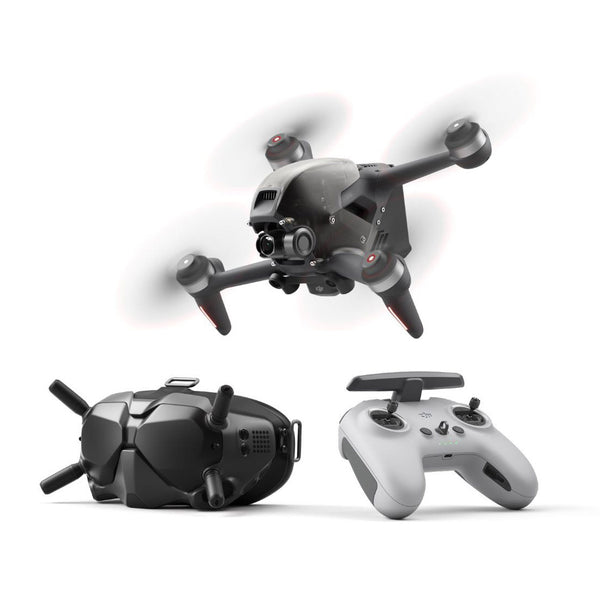 SUMMARY

SPECS

IN THE BOX

VIDEOS

ACCESSORIES
Redefine the way you fly by experiencing first person view (FPV) immersive and intuitive aerial platform. DJI FPV stands out in more ways than one. Sporting front LEDs and aircraft arm lights with customizable-color, DJI FPV allows pilots to make their own unique aircraft.

Feel the thrill of immersive flight provided by the DJI FPV Goggles V2 and DJI FPV's super-wide 150° FOV. HD video transmission at up to 120fps gives you an ultra-smooth, real-time view of your flight. 
FEATURES
Immersive Flight Experience
4K/60fps Super-Wide FOV
HD Low-Latency Transmission
Intuitive Motion Controller
Emergency Brake and Hover
THREE FLIGHT MODES
S Mode: This hybrid flight mode combines the freedom of flying manually with the simplified controls of previous DJI drones.
N Mode: Ideal for new users, offers immersive flight with traditional drone flight controls along with DJI safety features like obstacle sensing.
M Mode: Complete, limitless control and the full FPV flight experience. Customize parameters and enjoy flight and footage unlike anything else. 0-62 mph,2 seconds!
150° Super-Wide Angle
84°
150° Super Wide Angle
120fps Max Frame Rate
MOTION CONTROLLER
Take your flight experience to new heights with the new DJI Motion Controller. This compact and intuitive device allows the aircraft to maneuver based on your natural hand motions. This isn't just an FPV innovation. It's an entirely new way to fly.
EMERGENCY BRAKE, HOVER & SAFETY FEATURES
Even for experts, manual FPV flight can be intimidating. That's why DJI FPV comes with an emergency brake and hover feature. Simply press this button on the remote controller while flying in any mode, at any speed, and the aircraft will stop and hover stably within a few seconds.

An auxiliary bottom light, Smart Return to Home (RTH), Low Battery RTH, and forward and downward obstacle sensing are all integrated into DJI FPV to help ensure a safe flight, even at high speeds.
Auxiliary Bottom Light
Forward Sensing
Downward Sensing
ToF
NOTE: There is no automatic avoidance function. When obstacles are detected, the aircraft will slow down but will not stop completely unless controlled to do so by the pilot.
Camera

    Sensor
    1/2.3" CMOS
    Effective pixels: 12 million

    Lens
    FOV: 150°
    35mm Format Equivalent: 14.66 mm
    Aperture: f/2.8
    Focus Mode: Fixed Focus
    Focus Range: 0.6 m to ∞

    ISO
    100-12800

    Shutter Speed
    1/50-1/8000 s

    Still Photography Modes
    Single shot

    Max Image Size
    3840×2160

    Photo Format
    JPEG

    Video Resolution
    4K: 3840×2160 at 50/60fps
    FHD: 1920×1080 at 50/60/100/120fps

    Video Formats
    MP4/MOV (H.264/MPEG-4 AVC, H.265/HEVC)

    Max Video Bitrate
    120 Mbps

    Color Profile
    Standard, D-Cinelike

    RockSteady EIS
    Available

    Distortion Correction
    Available

    Supported File Formats
    exFAT (recommended)
    FAT32

Gimbal

    Mechanical Range
    Tilt: -65° to 70°

    Controllable Range
    Tilt: -50° to 58°

    Stabilization
    Single-axis (tilt), electronic roll axis

    Max Control Speed
    60°/s

    Angular Vibration Range
    ±0.01° (N mode)

    Electronic Roll Axis
    Available (can stabilize footage when the aircraft is tilted at angles of up to 10°)

Aircraft

    Takeoff Weight
    Approx. 795 g

    Dimensions
    255×312×127 mm (with propellers)
    178×232×127 mm (without propellers)

    Diagonal Distance
    245 mm

    Max Ascent Speed
    M mode: No limit
    S mode: 15 m/s
    N mode: 8 m/s

    Max Descent Speed
    M mode: No limit
    S mode: 10 m/s
    N mode: 5 m/s

    Max Speed
    140 kph; M mode: 39 m/s (27 m/s in Mainland China)
    S mode: 27 m/s
    N mode: 15 m/s

    Max Acceleration
    0-100 kph: 2 s (in ideal conditions while flying in M mode)

    Max Service Ceiling Above Sea Level
    6,000 m

    Max Flight Time
    Approx. 20 mins (measured while flying at 40 kph in windless conditions)

    Max Hover Time
    Approx. 16 mins (measured when flying in windless conditions)

    Max Flight Distance
    16.8 km (measured while flying in windless conditions)

    Max Wind Speed Resistance
    39-49 kph (25-31 mph)

    Operating Temperature
    -10° to 40° C (14° to 104° F)

    Transmitter Power (EIRP)
    2.400-2.4835 GHz
    FCC: ≤ 31.5dBm
    CE: ≤ 20 dBm
    SRRC: ≤ 20 dBm
    MIC: ≤ 20 dBm

    5.725-5.850 Ghz
    FCC: ≤ 31.5 dBm
    CE: ≤ 14 dBm
    SRRC: ≤ 25.5 dBm

    Number of Antennas
    Four

    GNSS
    GPS+GLONASS+GALILEO

    Hovering Accuracy Range
    Vertical:
    ±0.1 m (with Vision Positioning)
    ±0.5 m (with GPS positioning)

    Horizontal:
    ±0.3 m (with Vision Positioning)
    ±1.5 m (with GPS positioning)

    Supported SD Cards
    microSD (up to 256 GB)

    Internal Storage
    N/A

Sensing System

    Forward
    Precision Measurement Range: 0.5-18 m
    Obstacle Sensing: Available in N mode only
    FOV: 56° (horizontal), 71° (vertical)

    Downward (dual vision sensors + ToF)
    ToF Effective Sensing Height: 10 m
    Hovering Range: 0.5-15 m
    Vision Sensor Hovering Range: 0.5-30 m

    Downward Auxillary Light
    Single LED

    Operating Environment
    Refers to non-reflective, discernible surfaces
    Diffuse reflectivity >20% (e.g. walls, trees, people)
    Adequate lighting conditions (lux >15 in normal indoor lighting conditions)

Charger

    Input
    100-240 V, 50/60 Hz, 1.8 A

    Output
    Battery charging interface:
    25.2 V ± 0.1 V
    3.57 A ± 0.1 A (high current)
    1 A ± 0.2 A (low current)

    USB Port:
    5V/2A (×2)

    Rated Power
    86 W

Intelligent Flight Battery

    Battery Capacity
    2000 mAh

    Voltage
    22.2 V

    Max Charging Voltage
    25.2 V

    Battery Type
    LiPo 6S

    Energy
    44.4 Wh@0.5C

    Discharge Rate
    Standard: 10C

    Weight
    295 g

    Charging Temperature
    5° to 40° C (41° to 104° F)

    Max Charging Power
    90 W

Video Transmission

    Operating Frequency
    2.400-2.4835 GHz
    5.725-5.850 GHz

    Communication Bandwidth
    40 MHz (Max.)

    Live View Mode
    Low-Latency Mode: 810p/120fps ≤ 28ms
    High-Quality Mode: 810p/60fps ≤ 40ms

    Max Video Bitrate
    50 Mbps

    Transmission Range
    10 km (FCC), 6 km (CE), 6 km (SRRC), 6 km (MIC)

    Audio Transmission Support
    Yes

DJI FPV Goggles V2

    Weight
    Approx. 420 g (headband and antennas included)

    Dimensions
    184×122×110 mm (antennas excluded)
    202×126×110 mm (antennas included)

    Screen Size
    2-inches (×2)

    Screen Refresh Rate
    144 Hz

    Communication Frequency [1]
    2.400-2.4835 GHz
    5.725-5.850 GHz

    Transmitter Power (EIRP)
    2.400-2.4835 GHz
    FCC: ≤ 28.5 dBm
    CE: ≤ 20 dBm
    SRRC: ≤ 20 dBm
    MIC: ≤ 20 dBm

    5.725-5.850 GHz
    FCC: ≤ 31.5 dBm
    CE: ≤ 14 dBm
    SRRC: ≤ 19 dBm

    Communication Bandwidth
    40 MHz (Max.)

    Live View Mode
    Low-Latency Mode: 810p/120fps ≤ 28ms*
    High-Quality Mode: 810p/60fps ≤ 40ms*
    * A 150° FOV is available when shooting at 50 or 100 fps. For other frame rates, the FOV will be 142°.

    Max Video Bitrate
    50 Mbps

    Transmission Range [2]
    10 km (FCC), 6 km (CE), 6 km (SRRC), 6 km (MIC)

    Video Format
    MP4 (Video format: H.264)

    Supported Video and Audio Playback Formats
    MP4, MOV, MKV (Video format: H.264; Audio format: AAC-LC, AAC-HE, AC-3, MP3)

    Operating Temperature
    0° to 40° C (32° to 104° F)

    Power Input
    Dedicated DJI Goggles batteries or other 11.1.-25.2 V batteries.

    FOV
    FOV: 30° to 54°; Image size: 50-100%

    Interpupillary Distance Range
    58-70 mm

    Supported microSD Cards
    microSD (up to 256 GB)

DJI FPV Goggles Battery

    Capacity
    1800 mAh

    Voltage
    9 V (Max.)

    Type
    LiPo 2S

    Energy
    18 Wh

    Charging Temperature
    0° to 45° C (32° to 113° F)

    Max Charging Power
    10 W

    Battery Life
    Approx. 110 minutes (measured in an environment of 25°C at maximum brightness level)

DJI FPV Remote Controller

    Operating Frequency
    2.400-2.4835 GHz
    5.725-5.850 GHz

    Transmitter Power (EIRP)
    2.400-2.4835 GHz
    FCC: ≤ 28.5 dBm
    CE: ≤ 20 dBm
    SRRC: ≤ 20 dBm
    MIC: ≤ 20 dBm

    5.725-5.850 GHz
    FCC: ≤ 31.5 dBm
    CE: ≤ 14 dBm
    SRRC: ≤ 19 dBm

    Max. Transmission Distance
    10 km (FCC), 6 km (CE), 6 km (SRRC), 6 km (MIC)

    Gimbal Dimensions
    190×140×51 mm

    Weight
    346 g

    Battery Life
    Approx. 9 hours

    Charging Time
    2.5 hours

Motion Controller

    Model
    FC7BMC

    Weight
    167 g

    Operating Frequency Range
    2.400-2.4835 GHz; 5.725-5.850 GHz
 
   Max Transmission Distance (unobstructed, free of interference)
    10 km (FCC), 6 km (CE/SRRC/MIC)

    Transmitter Power (EIRP)
    2.4 GHz: ≤28.5 dBm (FCC), ≤20 dBm (CE/ SRRC/MIC)
    5.8 GHz: ≤31.5 dBm (FCC), ≤19 dBm (SRRC), ≤14 dBm (CE)

    Operating Temperature Range
    -10° to 40° C (14° to 104° F)

    Battery Life
    300 minutes

microSD card

    Supported microSD cards
    Max 256 GBUHS-I Speed Grade 3

    Recommended microSD cards
    SanDisk High Endurance U3 V30 64GB microSDXC
    SanDisk Extreme PRO U3 V30 A2 64GB microSDXC
    SanDisk Extreme U3 V30 A2 64GB microSDXC
    SanDisk Extreme U3 V30 A2 128GB microSDXC
    SanDisk Extreme U3 V30 A2 256GB microSDXC
    Lexar 667x V30 128GB microSDXC
    Lexar High Endurance 128GB U3 V30 microSDXC
    Samsung EVO U3 (Yellow) 64GB microSDXC
    Samsung EVO Plus U3 (Red) 64GB microSDXC
    Samsung EVO Plus U3 256GB microSDXC
    Netac 256GB U3 A1 microSDXC
DJI FPV Drone, FPV Intelligent Flight Battery, FPV Propellers (Pair), FPV Gimbal Protector, FPV Top Shell, FPV Remote Controller 2, Spare Control Sticks (Pair), FPV Goggles v2, FPV Goggles Antenna (Dual Band), FPV Goggles Battery, FPV Goggles Power Cable (USB-C), FPV Goggles Headband, FPV Goggles Foam Padding, FPV AC Power Adapter, FPV AC Power Cable, USB-C Data Cable and USB-C OTG Cable