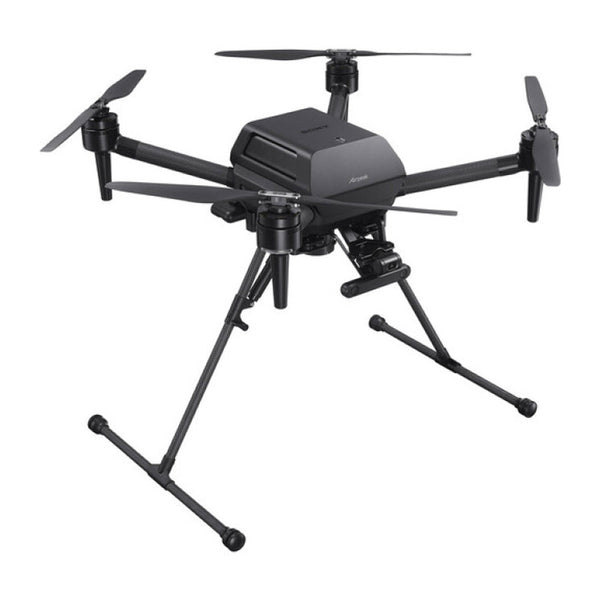 SUMMARY

SPECS

IN THE BOX

VIDEOS

 ACCESSORIES
The Airpeak S1 by Sony is a lightweight aerial platform with quad 17" propellers. Without payload the aircraft has 22 min of flight time, with payload approximately 12 minutes. Add in high-powered brushless motors, and the Airpeak S1 can move with exceptional speed. This optimized propulsion system can accelerate through shots and reach waypoints at up to 55.9 mph (without payload) and a 0 to 50 mph acceleration of just 3.5 seconds.
FEATURES
World's smallest drone that can carry a full frame Alpha series mirrorless camera 6
Max speed of 55.9 mph (25m/s)1, maximum angular velocity of 180°/s2 and attitude angle up to 55°3
Sony developed propulsion device and flight control system
Flight time up to 22 minutes4 without a payload.
Stable in winds up to 44.7 mph (20m/s)5
Retractable landing gear for unobstructed camera field of view
Detachable propellers for fast easy replacement and transport
Sony developed stereo cameras and vision sensing processor with original algorithm for real time 3D spatial awareness
Achieves stable flight in enclosed spaces or when out of range of Global Navigation Satellite System (GNSS)
Equipped with obstacle braking function by multi-directional sensing
RCR-VH1 remote controller operates the aircraft, gimbal, and camera while providing real-time image output.
Use with "Airpeak Flight" mobile app to control, monitor and manage the aircraft, remote controller, camera, and gimbal in-flight.
Dual Operation Mode for independent control of Aircraft and Gimbal/Camera.
Equipped with flexible flight modes to make flying and creating even easier
"Airpeak Base" web app for integrated management of flight plans, flight logs, and equipment
FLIGHT MODES
Standard Mode: Ensures all sensors and obstacle detection are on
Velocity Mode: Reduces effects of wind on hovering, turning, and maneuvering
On Course Function: Pilots can accomplish accurate recreations of circular flight paths
All Modes: You can customize maximum speed, angles, acceleration rates, and other parameters

Automatic Return to Home
When the battery is low or the remote controller signal is lost, the Return to Home (RTH) feature automatically brings the drone back to its starting point. If obstacles are in the way of a straight flight, the aircraft will intelligently calculate an alternate route. Pilots can also conveniently trigger RTH at the end of a shoot to free them from piloting the aircraft home.
---
AIRPEAK BASE
Airpeak Base is a web-based app for overall drone project management, primarily providing automated flight planning and flight log storage. Airpeak Base can be implemented with just one Airpeak S1 or a fleet of them. Some management features include reviewing equipment status and usage logs, downloading flight logs from the drone, and setting up error warnings and maintenance reminders.
Separate accounts can be created to increase information security and accountability in aircraft usage. Being a web-based app, all data is conveniently stored in the cloud, so team members can access them from any location. It also helps Sony's Airpeak S1 customer support team to more efficiently provide problem resolution.
Mission Flight mode utilizes the Projects section of Airpeak Base to let you create automated flight plans that can be created for execution by the pilot with the Airpeak Flight mobile app. You can set the drone's speed and position (latitude, longitude, and altitude) along a timeline, along with the gimbal direction and timing of image and video capture. This mode can be saved and run repeatedly, just like a camera on rails when you're on the ground.
Repeat Flight mode accurately recreates old flight paths from flight logs, including gimbal and camera movement. In both Mission Flight and Repeat Flight modes, pilots maintain manual control to tweak the route and settings in the moment.
AIRPEAK FLIGHT MOBILE APP
Airpeak Flight is a mobile app that runs on your optional Apple iPhone or iPad (iOS/iPadOS 14 or higher), giving you aircraft, remote, camera, and gimbal control. While in flight, you can check flight distance, battery usage, and other telemetry. Airpeak Flight can also be used to confirm and execute automated flight plans created by Airpeak Base in Mission Flight mode. During automated flights in Mission Flight mode, pilots retain control of the gimbal and camera, can check aircraft status, monitor equipment, and view a live feed from the nose-mounted FPV camera.
REMOTE CONTROLLER
The included remote controller provides real-time control over the Airpeak S1 and the optional gimbal. Piloting is done via the twin Futaba-designed control sticks and various aircraft, gimbal, and camera buttons, which can be changed if needed. In addition to that, four customizable buttons can be set to actions that reflect your specific piloting needs. A mobile device holder on the remote can open up to 7" to accommodate either an Apple iPhone or iPad. To allow for external drone footage monitoring by a product team, use the built-in HDMI port to output video to an optional monitor.
VISION SENSING SYSTEM
The flight control system and ESC (Electronic Speed Control) integrates the propulsion and various sensing metrics, such as IMU (Inertial Measurement Unit), direction, barometric pressure, and infrared ranging. In addition to the five stereo cameras (front, back, left, right, and bottom) and two IR range sensors, the S1 can accurately determine its spatial position and orientation in real time.
This ability allows for reduced camera shake during low-level flying, and it is essential for automatic obstacle avoidance in dense areas or when GNSS reception is not available. If an obstacle is detected, the S1 can enable the obstacle braking function, which auto-decelerates or stops the aircraft if needed. Obstacle braking can also be manually triggered if needed.
SELF-DIAGNOSTICS
The Airpeak S1 automatically runs a full system check before starting its motor, alerting you to any possible issues and restricting takeoff and landing if these issues are too severe. Self-diagnostics can also be done while in flight, letting pilots know of any issue so they can make an emergency landing if necessary.
DIVERSE CAMERA OPTIONS
Airpeak S1 is compatible with a huge range of cameras and lenses, allowing creators to choose the perfect setup for their needs. Powerful low-light cameras like the α7S series or FX3 leverage high sensitivity with stability to capture vivid images even in dark conditions. High-resolution cameras like the α7R series can achieve aerial imagery of outstanding quality, with huge potential for commercial and industrial applications. α9 series will capture high quality images with ultimately low distortion, and α1can shoot in the air with 8K quality. For lenses, Airpeak S1 is compatible with select E-mount prime lenses. You can match the best model for your application.
Exclusively Made Gremsy Gimbals
As a dedicated accessory for Airpeak S1, there is Gremsy gimbal "T3 for Airpeak" that is compatible with Alpha series cameras. Once the gimbal is connected, the quick release mechanism allows for easy attachment. And the temperature controlled IMU allows for accurate control of the gimbal in any temperature. Gremsy gimbal parameters may need to be calibrated when using certain camera and lens setups.
Maximum Horizontal Speed 55.9 mph / 25.0 m/s
Maximum Ascent Speed 15.7 mph / 7 m/s
Maximum Descent Speed 8.9 mph / 4 m/s
Maximum Wind Resistance 44.7 mph / 20.0 m/s
Flight Ceiling 8202' / 2.5 km
Maximum Flight Time 22 Minutes
Maximum Tilt Angle 55°
Hovering Accuracy ±0.3' / 9.1 cm Vertical with GPS, Vision Positioning
±0.3' / 9.1 cm Horizontal with GPS, Vision Positioning
Maximum Angular Velocity 180°/s (Pitch)
180°/s (Yaw)
180°/s (Roll)
Diagonal Wheelbase: Approx. 25.5 inch (without propellers)

Dimensions: Approx. 20.75(H) x 23.38(W) x 20.25(D) inches(Landing position, without propellers) and Approx. 39.88(W) inch(Landing gear is up)
Aircraft Weight: Approx. 6 lb 14.9 oz (without battery packs)
Maximum Takeoff Weight 15.38 lb / 6.98 kg
Payload Capacity 5.5 lb / 2.5 kg
Sony Airpeak S1 Professional Drone, RCRVH1 Remote Controller, 4x PPL1785 Propeller, 2x LBPHS1 Flight Battery, LBGH1 Battery Charger, Landing Gear, Calibration Board, Power Cable, Control Cable, 2x USB Type-C Cable, Micro-USB Cable, Limited 1-Year Warranty

* Airframe only, the installed gimbal, camera and lens are sold separately