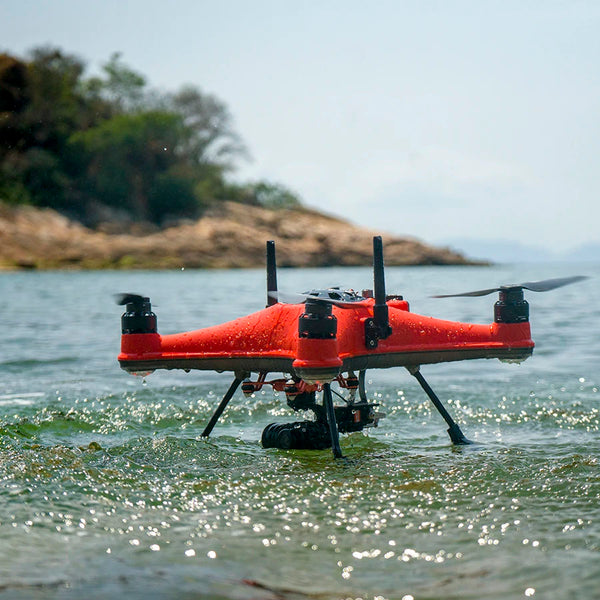 SUMMARY

In The Box

ACCESSSORIES

Video
 SplashDrone 4 is designed to have the best waterproofing technology in the industry. The tough, rigid fuselage of is made out of industrial-grade ABS. Each SplashDrone 4 is factory-sealed to the slightest details and air-pressure tested for our exclusive 100% waterproof guarantee. The waterproof motors and internal electronics are also coated with corrosion-resistant coating adding an extra layer of protection over the already total waterproof design.

SplashDrone 4 is the 5th generation waterproof drone representing SwellPro's 7 years of knowledge and understanding of drone waterproofing technology.
SplashDrone 4 is the all-new waterproof flight & float platform designed for multipurpose operation in any harsh environment. 
All-new IP67 seawater-proof body
SplashDrone 4 remote controller                                                                                    The all-new SplashDrone 4 remote controller is now waterproof for your worry-free operation.You can even toss it on the water or rinse off the collected sand. The built-in GPS offers a variety of new features, including real-time tracking and dynamic return to pilot. The remote controller is now capable of offering multiple devices connection for a better collaborative operation.

The patented "Smooth+" flight control allows the pilot to finely tune the Roll and Yaw of SplashDrone 4.Smooth+ makes professional, steady flight control as easy as turning the knobs. Want to take a steady shot? Simply switch to Smooth+ control, together with our 4K 3-axis gimbal, you can take high-quality, ultra-smooth & steady shots effortlessly.
The latest 5.8GHz digital image transmitter and adjustable antennas ensures a clear and reliable image and control signal range to the SplashDrone 4 of over 5km while airborne.
The SplashDrone 4 constantly records the GPS position of the remote controller,allowing the aircraft to always return to the pilot's position even if they are on a moving boat far away from the original take-off point.
NOTE: No payloads or camera included.
1 aircraft
1 remote controller
2 pair props
1 intelligent battery
1 power adapter and cable
1 RC barrel power cable
1 micro USB cable
1 hex screwdriver 2 hex screws
1 manual 
1 case